Fight disinformation:
Sign up
for the free
Mother Jones Daily
newsletter and follow the news that matters.
[Click here to read more Mother Jones education dispatches.]
One drizzly Tuesday in San Francisco's Mission district, 20 second-graders squirm happily in anticipation of making "funny-faced sandwiches" with nutrition coordinator Meghan Elliott. Pitas present themselves for decoration; Elliott doles out hummus, cheddar cheese, apple slices, raw spinach, and raisins. "Hummus is kind of like healthy mayonnaise," she explains, as her mostly Latino students eye the mystery spread. "It's made from beans so it's really creamy and full of protein, so it's good for your…" Half of the class immediately responds: "Muscles!" Soon students get to work on their sandwich designs. "This is aaawesome," a round-faced kid in the back exclaims as he dunks a plastic knife into the smooth spread. I approach a table of three girls and ask to take a seat. "We haven't tasted hummus before today, it's brand new to us," says a girl named Paulina, delicately adding spinach bangs to a pita face.
"If presented with a new food multiple times, there's been a lot of research that shows that kids will try it. Especially when they're around their peers, when they're in the classroom," Elliott tells me later, nibbling on posole (Mexican hominy stew) and a pomegranate-speckled salad in her office at Leonard Flynn Elementary School. Personally, I'm convinced she can get kids to try anything. Once, while working in Flynn's after school program, I watched her get my entire class of third graders to rave about raw kale.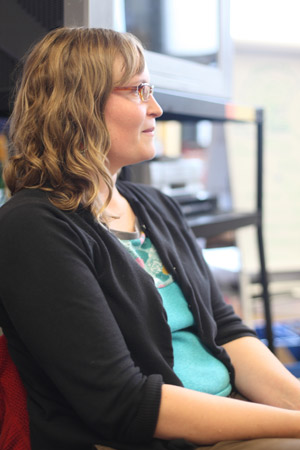 Getting any kid to like raw kale is hard enough; Elliott's job at Flynn comes with challenges of its own. The school district categorizes 73 percent of the school's families as "socioeconomically disadvantaged," and the lure of cheap, fast food is real. The child obesity rate for San Francisco's low-income kids stands at 16 percent. And that's for kids in preschool. So while today's sandwich-decorating lesson may seem fun and light-hearted, it also aims to prevent serious chronic health issues later in life for these kids—diabetes and heart disease, for instance.
Through classes like today's, nutrition coordinators like Elliott spend the school year revealing new realms of affordable snacking possibility to students at low-income schools like Flynn. Elliott's employer, the San Francisco Nutrition Education Project, began in 2002 with funding from the USDA's Food Stamp Program and typically educates students who qualify for free or reduced lunch, many of them Latino and African-American. "Mortality rates are not highest among white, rich kids," Elliott tells me when I ask about the program's demographics. "A lot of the work we are doing is prevention for kids who need it, and schools that have families with fewer resources."
One impact of the recession is an increase in the number of California families experiencing "food insecurity," defined as lack of access to enough healthy food. Some students at Leonard Flynn experience food insecurity, explains Elliott, because they don't live close to grocery stores, and much of the food they eat comes from corner stores or the food bank. Thus, some of what Elliott tries to do is help kids make the best food choices they can with what they have access to.
Elliott walks students through making healthier decisions at the local corner stores that line the streets of their neighborhood, the Mission District. "It might be that the healthiest thing you can get is some orange juice, and some pretzels, and some sunflower seeds," she lists. Some classes also make trips to local farmers' markets where food stamps are accepted. There, they buy produce and make fruit salads to see how a couple dollars can yield enough food for a whole group.
The goals of the Nutrition Education Project seem pretty simple: expose kids to healthier snacks, get them to eat more servings of fruits and vegetables each day, and inspire them to move around more. The biggest thing standing in the kids' way? They probably aren't going to have much say in the matter around their own dinner table. "They're not in control of what their parents spend money on," Elliott says. Cheap, processed food is everywhere; there are hundreds of fast food restaurants in San Francisco alone. "It's very hard to change behavior," says Mark Elkin, project coordinator for the Nutrition Education Project. "And our culture makes it very difficult with all the advertising."
In order to address this, Elliott has been meeting with a small group of mostly Mexican moms for three years to talk about nutrition at home. I sat in on one of the workshops she leads in Spanish, wondering how her nutrition tips fell upon the ears of women who might cook traditional food most of the time. The moms began the meeting by comparing notes on small substitutes they had made in their family's diets.
"I traded corn oil for olive oil, and started using wheat bread instead of white," says Maria Cárdenes, who originally hails from the Mexican state of Guanajuato, but has lived in the city for the past 27 years. "I've been looking out for vegetarian tamales," another woman pipes in. "And making it out to the park more often."
The women start talking about where to purchase olive oil on the cheap. One wants to know why Elliott doesn't recommend corn oil; it is, after all, plant-based rather than animal-based. Elliott expresses concern about how much corn is genetically modified these days. "That worries me, because we're Mexican, and we eat a lot of corn," one mom responds. "If you can find corn from a local rancher, it's more probable that they won't be using chemicals," says Elliott. I wonder how likely that is, and how affordable.
Still, it's clear that much of the advice Elliott gives can make a real impact. "We don't drink soda at home anymore," Alejandra Juarez, from Puebla, Mexico, tells me when I ask whether Elliott's class has affected her home life. "Also, I eat more salads. I've learned to read labels, buy fruit when it's in season, and look for coupons," Juarez continues. "It hasn't been hard to change."
Sesame Street has also found it easy to change recently, launching "Food for Thought: Eating Well on a Budget." In parts of the new bilingual series, Elmo and Grover parade their adorable selves around the screen as new Superfoods characters get them to sample "apples, and carrots, and berries, oh my." Other parts address adults directly; in the "Healthy Food on a Budget" video, parents discuss budgeting nutritious meals after dealing with foreclosed houses, lost jobs, and homelessness. "Sometimes wondering how to pay for food or find time to cook can be overwhelming," reads Sesame Workshop's "Caregiver's Guide," downloadable from the Food for Thought website. "And if there isn't enough food all the time, it may be especially hard to make healthy choices." The guide advises parents to look for generic brands and coupons, buy in bulk, and buy fruit in season so it's cheaper.
"Often adults will just automatically think, 'kids don't like vegetables, they don't like fruit,'" Elliott says. But her experiences in the classroom contradict this notion. During today's sandwich class, students are finally ready to chow down on their pita art. "Roll it up like a fruit roll-up," Elliott instructs the class. A girl with a purple shirt explains to me that "this has real fruit, and it rolls up," to clarify any confusion I might have. After she's taken a couple of bites, I ask her, "if you had this roll-up or a bag of chips, which one would you choose?" She takes another bite and thinks for a couple of seconds before answering. "This," she finally tells me, with a resolute nod.