Fight disinformation:
Sign up
for the free
Mother Jones Daily
newsletter and follow the news that matters.
Before the earthquake struck on the evening of January 12, 2010, Alex Georges and his partner had been running a successful solar panel design and manufacturing company in Haiti, the only locally owned and operated one in the country. Business was faring well. Sales were growing steadily, as were the number of company employees. But today, Georges worries that foreign aid has distorted Haiti's small but growing renewable energy market. He believes that the presence of foreign solar companies, which has swelled in the wake of the earthquake, undermines Haiti's ability to compete globally—and ultimately, its hopes for economic stability.
Moments before the earthquake, Georges and his team were in the middle of a business meeting in Port-au-Prince. Then came the tremors. "It took about five seconds to realize it was a big one and that we were in danger inside the house," he says. Georges ran outside and saw that everything around him had collapsed to rubble. "It was a shock," he recalls. "Luckily, we didn't have any loss of life."
But his company's manufacturing facility wasn't so lucky: The earthquake destroyed it. Georges and his team spent the next week clearing out concrete chunks and trying to save people who were stuck underneath. "Then we had to focus on getting back on our feet," he says.
In the following weeks, as aid workers, medical supplies, and food poured into Haiti, a dire need for lighting emerged. Before the earthquake, only 12.5 percent of Haitians were connected to the state's electrical grid; post-quake, virtually no one had access. "There was a complete blackout in Port-au-Prince," Georges says, except for a few blocks lit by solar street lamps that his company, ENERSA, had installed. "I heard stories about how people tried to stay under these lights."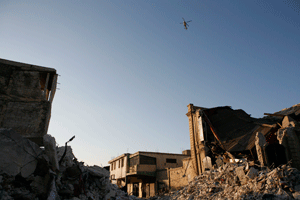 But ENERSA's lights weren't nearly enough to prevent the natural disaster from devolving into a security emergency. Throughout Port-au-Prince, imprisoned gang members who broke free during the earthquake regained their stronghold in nearby tent camps like Cité Soleil, the capital's largest slum. Camp alleys went pitch-black after sunset. Rape and violence against women escalated far beyond the control of Haitian police and UN security forces. "It was like insult to injury, highlighting the weaknesses of our country," says Natalie Domond, who oversees loan and client progress at the microfinance institution Fonkoze. "There's a huge security issue that distorts the market right now."
After hearing about the spike in crime rates, many foreign solar companies donated lamps to help protect women and children in the camps; more than 500,000 have been pledged in the last year. (In contrast, ENERSA only managed to donate four during the immediate aftermath of the quake, after one of its technicians rummaged through the company's destroyed facility and salvaged some materials out of the rubble. "He fabricated them in the dark by hand," Georges says.) The sudden influx of solar lamps complicated business for Georges, who restarted manufacturing solar products last April. "The biggest obstacle for us is foreign competition," he told me. "We feel that we have to compete with international giants."
ENERSA's sales of solar street lamps, which averaged 55 per month at the end of 2009, plummeted after the earthquake: Between January and May 2010, they only sold five. (And a loan Georges took out a month before the disaster put the company under even more stress.) But cutting back on staff wasn't an option. Like most residents of Cité Soleil—which suffers from chronic unemployment and illiteracy—many of ENERSA's workers lived on less than a dollar a day before getting hired. "Even though production dropped, if you fire someone, that's like a death sentence," Georges says.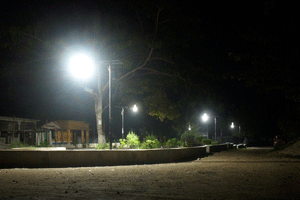 For most of Georges' employees, ENERSA was their ticket out of the slums. Since starting the company in 2005, Georges and his partner Jean Ronel Noel have hired 51 young men from Cité Soleil. They are not only looking to develop Haiti's solar market but also to make a social statement: "With proper guidance, this is what we can achieve in Haiti. This is what we can do with these young men that people are saying have no future."
The problems that Georges describes stretch beyond Port-au-Prince. Haiti's high energy costs and poor infrastructure currently lock more than half of its population into abject poverty. In a recent survey of families living in the southwestern municipality of Les Anglais, Daniel Schnitzer, who started the clean energy non-profit EarthSpark International, found that households spend 10 percent of their monthly income on lighting costs. By comparison, American households only spend half a percent.
Solar energy advocates believe that cultivating renewable energy in Haiti could help solve many of the country's long-term challenges, from generating jobs to reducing its reliance on expensive imported fuels. Georges points out that most foreign solar companies fly in pre-assembled products, but by manufacturing locally, his company can hire six times as many Haitians as its competitors. And whereas installing solar and other energy-efficient systems costs more upfront than buying diesel or kerosene, Schnitzer says there is significant savings over time. "People will be able to save their goods and save more money. Their purchasing power will be increased," says Jean Noel Paget, the former mayor of Les Anglais who now runs a locally owned EarthSpark store—Haiti's first clean energy shop where solar home lighting systems and energy efficient cookstoves are sold.
And a solar trend seems to be catching on: EarthSpark plans to open five other stores this year. The Solar Electric Light Fund has secured several grants to install solar-energy systems in clinics, schools, and drip-irrigations systems in the central plateau. And Haiti's Ministry of Public Works is currently looking at ways to incorporate renewables into a future national energy development plan. It's too early to tell whether these efforts will expire when the grants run out, or if they will evolve into new Haitian companies like ENERSA, eventually forming a domestic solar market big enough to compete globally.
For ENERSA, business has started picking up again, but Georges expects it will be a while before it fully rebounds. Its manufacturing facility is now half-rebuilt, enough to get "some production going." Georges urges his men to stay strong in the meantime. "From day one, I told them, 'We're going to make it,'" he says. "We have an obligation not to give up."