Fight disinformation:
Sign up
for the free
Mother Jones Daily
newsletter and follow the news that matters.
Responding to this great New York Times article on large-scale organic farming on Mexico's Baja Peninsula, I alluded yesterday to the "stacks of pristine, glistening organic tomatoes" now gracing the produce aisles of upscale supermarkets. The Times piece raised some important questions about the ecological impact of large-scale organic tomato production in Baja.
That very same evening, I found myself in what must be one of the most upscale supermarkets on the planet—the flagship Whole Foods in the company's (and my) hometown of Austin. (I'm here for the week visiting family.) And in that cavernous circus of high-end food, I did indeed find a large display featuring several varieties of organic tomatoes from Mexico. But here's the thing: they didn't look very pristine to me. Not unlike the non-organic winter tomatoes found in supermarkets throughout the land, their red hue looked sort of pale. And when I handled them, they didn't seem particularly ripe.
Now, I revere tomatoes. Maverick Farms, the North Carolina operation I help run, grows several varieties, some open-pollinated from old seed lines (i.e., heirloom), some hybrid. Our August-September tomato season is sacred to me, as are the jars of them we put up for the rest of the year. But when they're out of season and not in a jar, tomatoes are dead to me. If I hadn't written about organic winter tomatoes from Mexico that very day, Whole Foods' mediocre-looking display would not have caught my eye at all.
And while Whole Foods' offerings didn't look much different from normal supermarket tomatoes, their price tag did capture my attention. Big beefsteaks and medium-sized greenhouse-grown orbs both went for $4 per pound; "vine-ripened" numbers (with vines still attached) went for an eye-popping $6 per pound.
I decided to take home one of each and subject them to a taste test. Were the tomatoes worth their lofty price? Were they worth the environmental impact they exact on their growing region?
Now, I can't say for sure whether the tomatoes I bought came from the desert region profiled by the Times. Whole Foods offered no more information on their origin than that they were "grown in Mexico." But the Baja region has emerged in recent years as the major origin of organic winter tomatoes in the US market, the Times reports, so the tomatoes in my grocery bag likely came from there.
My mother joined me. She, too, is a tomato lover—she introduced me to the pleasure ripe seasonal tomatoes some decades ago. But she likes them so much that she actually buys winter tomatoes. So I thought we made a good panel: One person dismissive of winter tomatoes; the other excited to be trying fancy tomatoes from Whole Foods.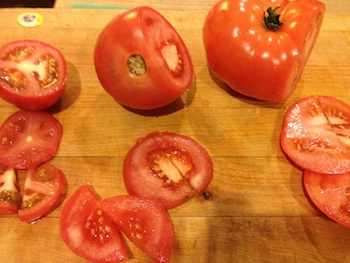 For me, a great tomato has a balance of acidity (foodie-speak for bright, tart flavor) and sweetness. Texture-wise, great tomatoes should yield easily to the tooth, giving off a burst of juice at the bite.
How did our Whole Foods samples fare? First we tried the "vine-ripened" one. It offered a meager acidity, not balanced in the slightest by sweetness; the texture was too firm, and its juice thin and watery. My mom agreed with that assessment. Next up was the greenhouse tomato, whose faint acidity was nearly balanced by an even fainter sweetness; the texture was just ok. My mother liked this one; I thought it had made a valiant lunge for mediocrity, and almost achieved it. The third one, the beefsteak, was abysmal: unpleasantly acidic, no sweetness, and a harsh, almost salty flavor overwhelming everything. Even my mother found it dreadful.
My overall verdict: These tomatoes were lackluster, little different than the ones that end up on the worst fast-food sandwiches. I wouldn't buy them again for a dime a pound, much less for the heirloomesque prices they're fetching.
And if these unimpressive fruits are indeed imposing a harsh ecological toll on the region where they're grown, than that, to me, is a travesty.
I should make one caveat. Barry Estabrook, author of Tomatoland, read my post from yesterday and emailed me to urge me to look more closely at one supplier of Baja-grown organic winter tomatoes, US-owned Del Cabo Cooperative. Rather than rely on single massive growers, Del Cabo claims to source from "more than 400" small farms. It also claims to encourage biodiversity, and not monocrops, on the farms it sources from. It may well be that small-scale, diversified growers use water less intensively than the large farms that are sucking Baja's water table dry. It may be that Del Cabo shouldn't be tarred with the same brush as other Baja suppliers. And their tomatoes may actually have some flavor. This is a topic I plan to look into more.