Fight disinformation:
Sign up
for the free
Mother Jones Daily
newsletter and follow the news that matters.
Editors' Note: This education dispatch is part of a new ongoing series reported from Mission High School, where education writer Kristina Rizga is known to students as "Miss K." Click here to see all of Mojo's recent education coverage, or follow The Miss K Files on Twitter or with this RSS Feed.

It's 8 a.m., and Mission High School choir director Steven Hankle is about to start class. Soul and hip-hop tunes play softly in the background while students trickle in. A young Latina girl pulls her friend up from the chair, and the two dance for a few minutes; an African American girl sings along. Sandwiched between two pianos, the 29-year-old teacher is writing out a holiday concert rehearsal schedule: "Deck the Halls," "This Christmas," a Latin remake of "Stand by Me," and "La Bamba."
Before Hankle became a teacher at Mission High in 2009, the school hadn't had a music program in three years. This really bothered Principal Eric Guthertz. "There are countless studies that show that students who are engaged in the arts perform better," Guthertz says. "On the other hand, music grades don't count in the test scores measured by the state." But after the school's staff and parents hired a music teacher, the fledgling choir took off. Student singers performed in front of 2,500 people at Davies Hall in San Francisco. Test scores shot up—especially among African American and Latino students—and dropout rates declined from 32 to 8 percent in a single year. Principal Guthertz credits the music choir in part for this success.
Unfortunately, it's anybody's guess if the talented choir director will be able to keep his job.
A new, young teacher, Hankle was among the first to get a pink slip last year due to budget cuts. It took Principal Guthertz three months of school board negotiations and the support of the teachers' union to successfully overturn the layoff. This year, the battle will be even tougher: California's governor-elect, Jerry Brown, is already warning educators that the deficit problem in California is "unprecedented in my lifetime" and pledging to cut the state budget by 25 percent. For now, here's how the show at Mission High goes on.
Hankle, who tells me that he wakes up at 5 a.m. each morning to work out at the gym, kicks off every class with physical warm-up exercises. Today, he leads the students through stretches, slight jaw massage, breathing exercises. "Fill up the tire right here," he grabs his air-filled belly to demonstrate how to take deep breaths. "Now, as we sing, make it active at the belly."
Today, the choir is rehearsing for their fourth performance this year: a holiday concert for parents. The students begin with the first two verses for "Deck the Halls." Hankle prods the students. "Very good, ladies! But guys, you've got to get out of your basement. Relax, as you go higher. Let's try, again," Hankle prompts. As boys struggle to hit higher notes, girls laugh. Hankle hand-signals for everyone to stop. "Don't laugh, ladies! It's hard for guys when their voices are changing. Be supportive, or we'll lose half of our choir," Hankle says sternly.
A Latino student comes in late with a big smile on his face. He joins his classmates and unzips his black sweatshirt to show off his "Corona Extra" T-shirt to the young men around him. During a pause in between songs, he pulls out his phone and starts playing the X-rated version of a Snoop Dogg track. "Turn that off," Hankle requests in a deep voice.
Hankle turns on "This Christmas" on his laptop, a popular holiday standard written by soul musician Donny Hathaway. He asks the young men to practice the first and second verses of the song from memory. The men sing, but on the third try a Latino teen starts talking to another student. Hankle stops everyone, again.
"You know how some people call us 'ghetto Mission High?' You have to act professional to break these stereotypes."
"You know how some people call us 'ghetto Mission High?'" Hankle asks. Some Latino and African American male students nod their heads in agreement. "You have to act professional to break these stereotypes. So let's try again." Hankle sets the tempo with hand signals and the choir rehearses "This Christmas" again, without interruptions. "Woo-hoo! We're getting there, getting there!" Hankle smiles at the choir.
"The great thing about Steven is that he can be firm, and he can be silly," Eric Young, a professional pianist from Oakland who moonlights at Mission High, tells me later. "One minute, he's taking away someone's cell phone. Two minutes later, he's doing a Beyonce dance with the girls." This is one reason why choir student Carlos, who moved to San Francisco from El Salvador four years ago, says choir and math are his two favorite classes at Mission High. "Mr. Hankle gets our jokes," he tells me. "But he also treats everyone with respect, even when he is mad."
To an outside observer, Hankle's work looks like a complicated dance: His gaze jumps around the class; he is teaching new material and gives feedback constantly. He enforces rules repeatedly, but he also spends equal time on joking and laughing. The combination signals to students that his class is a fun place, as long as you follow the rules: No texting, no insults, no talking during singing. Most of it looks effortless—until the end of the day.
Hankle finishes teaching around 4 p.m., collapsing his tall frame in a chair. Where did you learn how to be a teacher? I ask him then. The first person he mentions is his father, Johnnie Hankle Sr., a blue-collar worker who worked 16-hour days—when he wasn't laid off—and raised him and his brother alone on the South Side of Chicago.
And then there was Hankle's high school choir director, Kenneth Lenon. Back in high school, Hankle struggled as a student. He'd transferred from a private middle school that he was attending on a scholarship to a large, low-performing public school, and he felt socially excluded. "We wore uniforms in the Catholic school, and my father didn't have the money to build a basic wardrobe for me," he says. He was ridiculed for his unfashionable clothing; his English teacher, about to retire, seemed "bitter and mean." His grades declined. And then he joined the boys' choir.
"That's when I started to feel part of a community for the first time," Hankle says. "I played basketball, too, and it provided a sense of brotherhood. But choir appealed to a different, more peaceful side, which I really needed."
Hankle's choir teacher took his students on tours to college campuses. It was the first time Hankle had seriously considered college. "My father would talk about college, but until I saw it myself, it wasn't real," Hankle says.
By 2001, Hankle got a basketball scholarship to attend San Francisco State University, where he joined the university's Chamber Choir. The following year, the choir went to perform in Cuba, where a group of Cuban middle-school students was scheduled to sing with them in Havana. Midway to the concert, the Cuban students' bus broke down. "So the [Cuban students] walked for two hours to perform with us," Hankle recalls. "By the time I sang with them, I felt so connected to them. There was this sense of peace and purpose that I had never felt before." This is when Hankle decided to become a music teacher and help bring this sense of community and purpose to other kids growing up in low-income communities.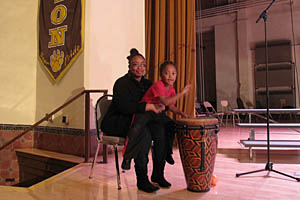 It's 6 p.m. on a recent Thursday afternoon, and hundreds of parents and kids are filing into the Mission High auditorium for the holiday concert. I sit down near Rufina Gilette, an African American mom who says she chose Mission High for her daughter specifically because she heard that the school succeeds with black students. "I grew up with teachers talking back at me, disrespecting me, so this is important," Gilette tells me. "I can pop into any class, and I have cell phones for most teachers." Gilette, who was born and raised in San Francisco's Western Addition neighborhood and now works at Safeway, tells me that her 17-year-old daughter Colani loves singing in the choir.
Around 7 p.m., Hankle appears on stage in front of 100 teenagers dressed in matching khaki Mission High T-shirts. The choir leads with Christmas standards. Dozens of parents in the audience hold their phones up in the air, taking pictures, videotaping the show.
A pre-recorded melody with a catchy beat starts playing: It's a cover of "Find Your Love," a popular song by the hip-hop artist Drake. The girls sing confidently, louder than the boys. An Asian American boy in glasses patched with Scotch tape sits next to me, moving his shoulders to the beat and singing along to himself softly.
"Next, we'll perform a little bit of Spanglish," Hankle tells the audience. The chorus starts singing a Latin-inspired remake of "Stand by Me"—going back and forth between English and Spanish. Hankle breaks into a Latin dance move toward the end of the song. When the chorus finishes, the auditorium bursts into shouting, roaring applause.
The last two songs of the evening are a collaboration between the choir and the "Guitar Club," a free afterschool program for Mission High students run by the Dolores Park Church with the help of Mission High English teacher Tadd Scott, who volunteers his time there. The choir performs a cover of the popular Mexican folk song "La Bamba," followed by the Puerto Rican song "Feliz Navidad." I notice an African American mother dancing with her son in the aisle.
The next evening, Hankle and I sit down in the neighborhood café and talk about what what he's found works best with hard-to-reach kids.
Peer recommendations—be it joining the choir or going to college—are among the most effective tools, he says. "A lot of struggling students play sports, and if their buddies tell them, 'I'm in the choir and it's cool,' soon enough I'll get most of the team in here." The hardest thing to figure out, he adds, is: How many chances should he give to a disruptive student? "I'm still learning," he says. "All I really know is that I will try to show excellence and expect excellence and be consistent with everyone."
(Help Mission High School Choir survive budget cuts. You can donate through DonorsChoose.org.)