On March 23rd, Geraldo Rivera went on Fox News to discuss Trayvon Martin's death on Fox News, saying, "I am urging the parents of black and Latino youngsters, particularly, to not let their children go out wearing hoodies. I think the hoodie is as much responsible for Trayvon Martin's death as George Zimmerman was."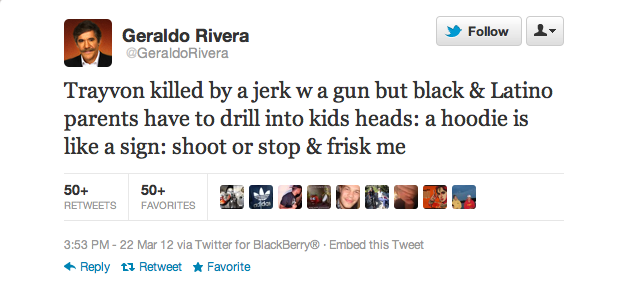 Turns out, hoodie-baiting is hardly new. Slate's explainer traces the hoodie's bad reputation all the way back to 17th-century Britain, when women visiting their lovers would hide their faces in hoods. But many are outraged over Geraldo's remarks and conservative media's attempts to blame the Florida teen's murder on his wardrobe, and they're throwing on their own hoodies in protest.
Here are New York State Assembly members Karim Camara and Marcos Crespo, along with State Senators Eric Adams, Bill Perkins, Kevin Parker, Shirley Huntley, Mike Gianaris and Daniel Squadron, on March 26th.
Another shot of Sens. Parker and Adams:
From the Alabany Times Union story on their March 26 appearance:
"President Obama stated if he would have had a son he would have looked like Trayvon," [Eric] Adams said. "I have a son; he looks like Trayvon."

"My son looks like Trayvon," [Bill] Perkins chimed in.

"He wears a hoodie," Adams said.
In D.C. on Wednesday, Illinois representative and former Black Panther Bobby Rush was pulled from the House floor while speaking about the "real hoodlums in America" and quoting bible passages in honor of Trayvon—and, you guessed it, wearing a hoodie. Mississippi Republican Rep. Gregg Harper was presiding over the chamber, and said he had Rush removed because the hoodie violated Clause 5 of Rule 17 on house decorum, which prohibits the wearing of hats in the chamber when the House is in session.
It's great that politicians are sticking up for Trayvon, but let's be serious, if you want to start an internet meme, it helps to have some star power. Here's rapper Ludacris on Instagram, with a hoodie and a jet:
Singer and comedian Jamie Foxx wrote, "My hoody will be on forever." (Doesn't sound wholly sanitary, but we get the point.)
Muhammad Ali shows his support for the hoodie:
LeBron James tweeted this picture of the Miami Heat on the 23rd: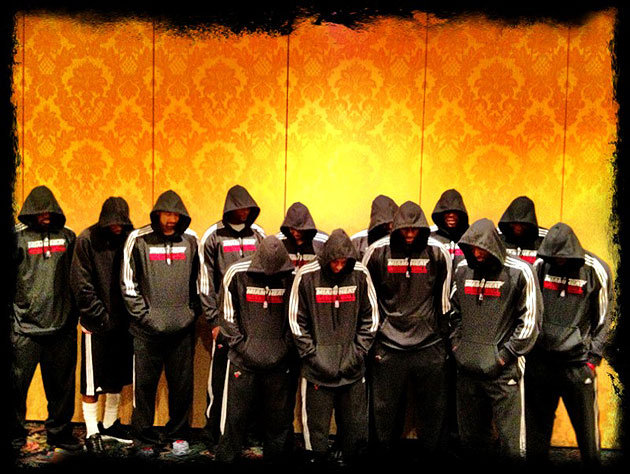 Media is in on the meme, too. Below is Mother Jones's own Adam Weinstein, who is in Florida covering the case. It is not, as some Facebook commenters believe, George Zimmerman.
The above picture was taken just before Weinstein went on Geraldo's radio show and called the host out for making the story about a sweatshirt rather than the senseless killing of a young man, saying:
I think a lot of people agree with you that minority kids are being unfairly stereotyped by their clothes, but the appropriate response is not to tell kids to change their clothing—the appropriate response is to flip it and tell our culture, hey, pull your head out, stop making deadly assumptions about people based on what they wear.
Geraldo's comments pissed off a lot of people, but hooded sweatshirts had already been showing up on high-profile Twitter avatars and Facebook pages days before his Fox News appearance. Here's a shot of former Michigan Governor and Current TV host Jennifer Granholm in support of last week's Million Hoodies March:
Students at Howard University School of Law School started this Facebook album of photos—featuring iced tea and Skittles along with hoodies:
.
Yesterday, Geraldo tweeted an apology for "any hurt I caused — that is not my goal or intent." But he's not backing down from the hoodie-hate: "I apologize for hurting people's feelings. I don't back down from my message. . . . Don't be a 911 call waiting to happen," he said on his radio show.
Meanwhile, we're watching to see whether Geraldo will continue to ignore his own advice and don the nefarious garb from time to time, as he did in this undated Fox News appearance. Careful, Geraldo, you're playing with fire.