Society has given us women plenty to be ashamed of—our size, our smells, and the biological inevitability that we have to shed our uterine lining once a month. It's actually pretty metal, when you think about it: To paraphrase comedian Cameron Esposito, there are days we walk around running the world while chunks of our bodies are coming out of our bodies.
Now—shout-out to feminism—it appears periods have become political currency. Sens. Elizabeth Warren and Cory Booker are among those backing legislation to make period-management supplies available for free in schools, offices, and prisons—and to eliminate the so-called pink tax women pay on things like tampons and pads. Since last year, legislation has also been introduced in 24 of the 40 states that tax menstrual products to eliminate those levies. 
Respect for the period has been a long time coming. So here, from the Bible to the bloody prom, is the abridged history of menstruation you never knew you needed.
Beginning of time: God allegedly punishes Eve for eating some fruit, and women are doomed to bleed for eternity.
~3,000 B.C.: Women in ancient Egypt use softened papyrus to stem their flow.
753 B.C.: Romans improvise tampons and pads of soft wool. Greek women are rumored to have wrapped lint around sticks, although menstruation expert Helen King argues this is likely a myth born from a bad translation—and that it's more likely this method was used for bloody noses. (Sounds a bit splintery either way.)
~538 B.C.: Menstruating Jewish women are deemed "unclean," separated from the men, and compelled to participate in purification rituals before rejoining society.
Middle Ages: Catholic theologians claim women turn into "animals" when they menstruate, and that their blood will cause grass to wither and iron to rust and dogs to acquire rabies. Thus shamed, women attempt to mask period odors with fragrant herbs tied around their necks and waists or ingest powdered toad in hopes of lightening the flow. But medicinal intervention is verboten: The Church insists that women should suffer for the sins of Eve.
1800s: Some European women literally go "on the rag" while others, mostly in rural areas, simply go without undergarments, "leaving a trail of blood behind them," according to scholars Sabine Hering and Gudrun Maierhof.
1896: Johnson & Johnson is first to sell sanitary pads—wood pulp bandages the company markets as "Lister's Towels." Kotex and other rivals soon emerge. Now the Curse is a capitalistic endeavor.
1899: "It is completely disgusting to bleed into your chemise," notes a German lifestyle book, "and wearing that same chemise for four to eight days can cause infections."
1914: The sanitary apron, a heavy piece of rubber covering the entire nether region, is invented by Carl G. Nelson, who clearly never had to wear such a thing himself.
1920s: Stores set out money boxes so women can pay for their hygiene products discreetly.
~1925: From Indiana comes the gift of the Hoosier Ladies' Sanitary Belt, a thick, washable cloth pad ladies attach to straps to form a diaperlike thing. (Comfort is key, after all.)
1929: Dr. Earle Hass, inventor of the contraceptive diaphragm, creates the first tampon.
1930s: Women Airforce Service Pilots (WASPs) should refrain from flying during their periods, doctors say, lest they faint. After World War II, a report titled "Medical Consideration of the WASP" notes, "Menstruation, in properly selected women, is not a handicap to flying or dependable performance of duty." 
1936: Gertrude Tendrich buys Hass' tampon patent for $32,000 and creates Tampax, adding an applicator so insertion needn't involve touching one's genitals. The Catholic Church expresses disapproval, concerned that women who use tampons will be more likely to lose their virginity.
1937: The first menstrual cup bombs thanks to its poor design—the cups were initially made of hard, heavy rubber. (And this was well prior to Gwyneth Paltrow's vagina eggs.)
1964: NASA's Women in Space program researchers warn that sending "a temperamental, psychophysiologic human" (a female, that is) to work on a "complicated machine" will not end well.
1969: Stayfree pads now include adhesives that stick to underwear. Finally, less slippage.
1970: Judy Blume's Are You There, God? It's Me, Margaret is the first book with a menstruation storyline. Meanwhile, Hubert Humphrey's personal physician, Edgar Berman, claims women's "raging hormonal imbalances" leave them unfit for leadership roles. (Margaret Thatcher, Indira Gandhi, and Golda Meir, he later clarifies, "have a lot more testosterone in their veins than most women.")
1971: "Red Flag," a controversial photolithograph by artist Judy Chicago, depicts a woman removing her tampon.
1972: TV networks start allowing tampon commercials. Proctor & Gamble, test-marketing its Rely brand, is the first to advertise with a spot showing a slight blonde woman pacing on the beach: "Remember: they named it Rely!"
1976: In the movie iteration of Steven King's Carrie, the mean girls humiliate Sissy Spacek after she gets her period in the school gym shower. (Carrie exacts her bloody revenge at prom.)
1978: Gloria Steinem writes If Men Could Menstruate. "Clearly, menstruation would become an enviable, worthy, masculine event…Young boys would talk about it as the envied beginning of manhood…To prevent monthly work loss among the powerful, Congress would fund a National Institute of Dysmenorrhea…Sanitary supplies would be federally funded and free."
1980: Rely tampons are linked to a surge in the sometimes-fatal bacterial illness known as toxic shock syndrome after an 18-year-old University of Colorado student is hospitalized with the disease.
Early 1980s: Schools censor—or ban outright—Are You There God? It's Me, Margaret. One woman phones Judy Blume and calls her a communist before hanging up: "I never did figure out if she equated communism with menstruation or religion, the two major concerns in 12-year-old Margaret's life," Blume comments. Blume blames the decadelong delay in backlash on Ronald Reagan's election to the presidency in 1980.
1985: Future Friends star Courteney Cox drops the p-word (period) in a Tampax TV commercial—another glass ceiling shatters.
1994: The Museum of Menstruation opens in a basement in New Carrollton, Maryland. It shuts down four years later.
1995: The movie Clueless unleashes the best tardiness excuse ever: "Mr. Hall, I was surfing the crimson wave," Cher Horowitz tells her teacher. "I had to haul ass to the ladies.'"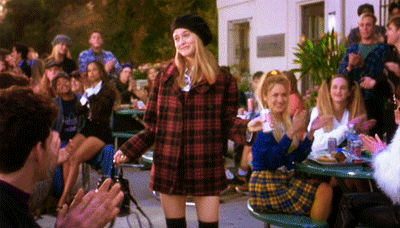 2003: DivaCups hit shelves, and slowly become a popular new accessory among women seeking a more eco-friendly alternative to tampons.
2014: "First Moon Party," a video about a girl who fakes her first period (created by a startup that sells menstrual products), goes viral on YouTube, eventually racking up more than 41 million views.
March 2015: Instagram removes—twice—a photo posted by artist Rupi Kaur that depicts her in sweatpants, curled up in bed, with a period stain. "Their patriarchy is leaking. Their misogyny is leaking. We will not be censored," she wrote in Facebook and Tumblr posts about the incident. 
April 2015: Musician and runner Kiran Gandhi gets her period the night before the London Marathon and decides to wing it sans tampon, bleeding into her leggings. "I thought, if there's one person society won't fuck with, it's a marathon runner," she writes in her blog.
August 2015: Angry over his grilling by Fox News debate moderator Megyn Kelly, Donald Trump tells CNN's Don Lemon that Kelly had "blood coming out of her wherever." The next day, facing backlash, Trump tweets that he meant Kelly's nose.
September 2015: A new iOS update adds a period tracking feature to the HealthKit app that comes with all iPhones.
January 2016: For Call Your Girlfriend, a popular podcast hosted by Ann Friedman and Aminatou Sow, the pair launches a newsletter titled "The Bleed." Logo: an illustration of period-stained panties. 
June 2016: A UK-based company releases the first feminine hygiene ad depicting blood—as opposed to blue liquid spilling onto pads to show how absorbent they are.
https://www.youtube.com/watch?v=8Q1GVOYIcKc
July 2016: New York City Mayor Bill de Blasio signs legislation that makes menstrual products free in public schools, shelters, and jails.
October 2016: "What if that time of the month comes and she is sick at the same time?" queries a Hillary Clinton critic in a letter to the Williamsport, Pennsylvania, Sun-Gazette. Two states over, a New York City subway ad campaign by Thinx—"underwear for women with periods"—comes under fire for its shameless approach.
November 2016: A New York Times "Well" column, citing Thinx and DivaCups, declares, "It's a great time to get your period."
August 2017: Nepal outlaws "chaupadi"—a Hindu practice of isolating women during menstruation so as not to contaminate the home or anger the gods—after the deaths of three women in 10 months. An 18-year-old died from a snakebite in the chaupadi shed, a 15-year-old from smoke inhalation after she lit a fire to stay warm, and a 26-year-old of unknown causes.