Fight disinformation:
Sign up
for the free
Mother Jones Daily
newsletter and follow the news that matters.
I'm proud to announce that Mother Jones has been recognized for the excellence of our editorial illustration by a trio of prestigious organizations this year: the Society of Publication Designers, American Illustration, and the Society of Illustrators. This magazine has a long tradition of excellence—not only in investigative reporting, but also in design and art direction, and we've always believed that visual journalism is an important part of our mission. It's gratifying to see that we continue to be recognized by our peers in the publication design industry.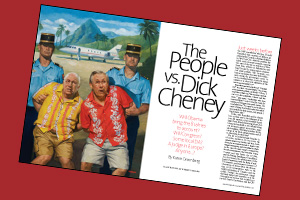 First of all, we've been honored by the Society of Publication Designers with one medal finalist award and three merit winners in their 45th Annual Competition. The SPD is one of the most prestigious association of publication designers and art directors in the country, and this work will be featured in its 45th Publication Design Annual book, which usually appears in November. In addition, the work will be exhibited online and at the Society's awards gala. The gold and silver medal winners from the field of finalists will be announced at the gala, which this year will be held on May 7 in New York City.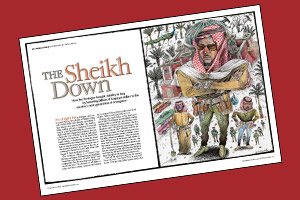 And the winners are: The medal finalist was "Presidents of the United States," by Steve Brodner, from our January/February 2009 issue, in the Single/Spread Illustration category. The Merit Award winners were: "Don't Look Down," by Dale Stephanos, from our January/February 2009 issue, in the Cover Illustration category; "The People vs. Dick Cheney," by Roberto Parada, from our January/February 2009 issue, in the Single/Spread Illustration category; and "The Sheikh Down," by Jack Unruh, from our September/October 2009 issue, in the Single/Spread Illustration category.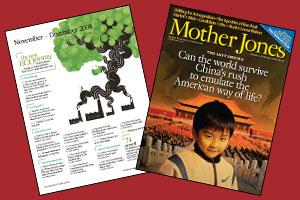 I'm particularly looking forward to attending the awards gala, which over the years has gotten more and more entertaining. The 42nd annual gala, the last one I attended, featured two emcees, George Karabostos, the design director of Men's Health, and Fiona McDonagh, director of photography at Entertainment Weekly. Their onstage patter was flawless—and then there were the costumes: After the presentation of awards in each category, George and Fiona re-took the stage in increasingly fancy evening dress, until at their final appearance, George brought down the house in an off-the-shoulder evening gown. I'm not sure what they've got planned for this year, but I do know that if our finalist gets the gold or silver medal, I'll be there to pick it up. (The winners aren't allowed to make any speeches, which is probably another plus for all concerned.)
In other awards news this year, two works of illustration commissioned for Mother Jones were included in American Illustration 28, a juried illustration annual publication. Steve Brodner's "Presidents of the United States" will appear along with Yarek Waszul's illustration for "The New ECOnomy," from our November/December 2008 issue.
?And finally, the recently-released Society of Illustrators 51st Annual, a publication that features work from the 2008 calendar year, includes a pair of illustrations from our pages: Tim O'Brien painted "The Last Empire" for the cover of our January/February 2008 issue, and Mirko Ili? created "The Seven Myths of Energy Independence" for our May/June 2008 issue.
Illustration credits, from top: left, Steve Brodner, right, Dale Stephanos; Roberto Parada; Jack Unruh; left, Yarek Waszul, right, Tim O'Brien; Mirko Ili?.
Update: After this was posted, we were notified of an additional 8 awards nominations, 4 of them for art, from the Western Publishing Association. See Elizabeth Gettelman's blog on the subject, here.