Fight disinformation:
Sign up
for the free
Mother Jones Daily
newsletter and follow the news that matters.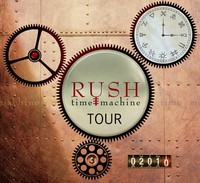 Kentucky senate candidate Rand Paul, the libertarian tea party fave, appears to be a Rush fanatic. His speeches sometimes quote a stanza  from the Canadian rock band's "Spirit of the Radio"–"Gilttering prizes and endless compromises/ Shatter the illusion of integrity"–a line that he believes illustrates the GOP's drift from its core values. He played the song at his May 17th primary election victory party and used another Rush song in a recent fundraising video. According to Robert Farmer, an attorney for Rush, Paul's former campaign manager told him on May 25th that "he and the campaign were big Rush fans."
The love doesn't appear to be mutual. Farmer has asked the Paul campaign to stop using Rush's songs. The campaign wouldn't agree to the demand, even after Farmer sent Paul a formal demand letter (PDF).  So yesterday Farmer took the dispute public with the Louiville-Courier Journal, which was also unable to get Paul to say whether he'd stop using the song. Perhaps Paul is concerned that if he compromises, it will shatter the illusion of his integrity.
When I reached Farmer at his Toronto office today, he told me that Rush's beef with Paul is "completely a copyright issue" and has nothing to do with Paul's or Rush's political views. Though Rush is often considered to be a "libertarian" band, Farmer declined to elaborate on the political meaning behind the band's songs. "People listen to songs and they get different impressions about different things," he said. He laughed and went on: "Look, we're Canadians, this is a copyright issue; we don't want to affect any politics in the United States."
"What I find surprising about this, though, is that we still haven't had a response from Rand Paul or his campaign," he added.
Farmer later emailed me the following timeline of Rush's efforts to get Paul to stop using their music:
I called David Adams, who at the time was Paul's campaign manager on May 25, 2010. At the time, he was driving down the interstate. I told him who I was and he said he and the campaign were big Rush fans. I told him that the use of Rush's music was copyright infringement and I'd be sending him an email (to David@randpaul2010.com).

I sent the attached notice by email that day. I heard nothing. I also sent a copy via their website and used their website contact info to advise them to call me.

Nobody called me. I called David Adams back on May 27, 2010, and he said he hadn't received the email. He gave me another email address, kyprogress@yahoo.com (and I resent to the first address). Once again, I asked him to confirm receipt.

I heard nothing, so I couriered the notice to their office, to the attention of Jesse Benton (the new campaign manager) and David Adams. It was received on June 1, 2010 and singed for by K. Dishan, receptionist.

To date, I have heard nothing from them.