Fight disinformation:
Sign up
for the free
Mother Jones Daily
newsletter and follow the news that matters.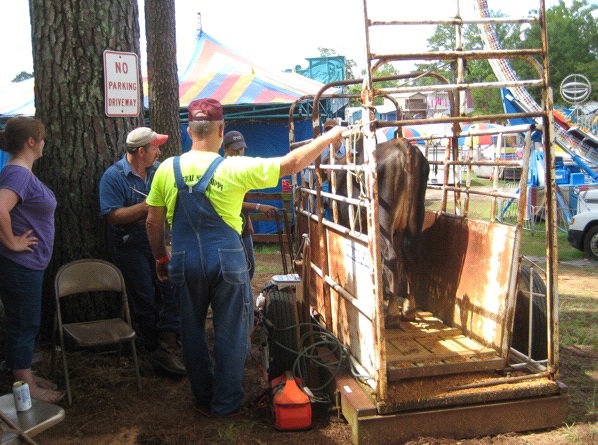 Philadelphia, Mississippi—Ray Lilley is technically head of the Mississippi Mule Association, but he prefers his unofficial title: "I'm top ass," he says. He's decked out today in what I'd imagine would be his Monday–Saturday best: blue overalls, an old yellow shirt, and a maroon hat with a pointy-eared mule on the front. He and his friends Rusty and Jim, farmers both, are handling the livestock competition today at the Neshoba Giant Fair.
"Tell 'em we don't like Nancy Pelosi," says Jim, and they all laugh. Noted.
The Neshoba County Fair has, over the last century or so, become more well known by its other name, Mississippi's Giant Houseparty. Some 600 cabins of varying degrees of luxury, priced at as high as $300,000 and habitable for only 10 days each year, occupy the fairgrounds, divided into streets and neighborhoods. But it's still a county fair at heart, which means that if you have a favorite dairy cow, steer, watermelon, or artichoke, you can still bring it the grounds to get measured, appraised, and certified.
Things go relatively smoothly over at the weigh station, with one notable exception: One cow, appropriately the only one not brought in by a young kid, does a nose-dive onto the scale and doesn't feel like leaving. Our Bessy cheked in at either 400 or 440 lbs.—a big spread, admittedly so Rusty took the average—and then she pretty much checked out. Some days you just don't feel like showing off for the head of the Mississippi Mule Association.

"Git up, cow."
"Pinch her tail!"
"Git up, cow."
"Pinch her tail!"
Nothing doing. She's the dairy equivalent of Ferdinand the bull. Bessy just sits there, barely even blinking, staring straight ahead. "Hard to believe that's where all your ice cream, cheese, and milk come from," says Rusty. Her owner is pacing around now. "She's never this bad."
"Come on, baby; come on, baby. Roll over. Git up, now."
"I never seen one just git on in there and go to the sleep!"
"Come on, baby."
"Git up!"
Cow, or baby, neither of which is her likely her name, gets up after about 10 minutes of this, comatose until the very end. Only by hitching her bit to another cow heading in the opposite direction can they get enough leverage to pull her up. Then she gets up, does a little shake, and goes on as if nothing happened, leaving Ray, Rusty, Jim, and I to chew on the aftermath.
How'd you get into mules, Ray. You don't like horses?
"Horses are stupid." The three of them concur.
"Ray, tell him the saying about mules," says Jim, the younger of the three judges of the dairy cow competition. "He hasn't heard it."
"Well there is a saying when you're dealing with equines," says Ray. "Tell a horse, ask a mule, and negotiate with a donkey."
His grandfather raised mules for the army, then his father raised mules, and now Ray raises mules. They're coming back, he says, mostly for environmental reasons; it sure beats a diesel-powered tractor. The army has even started buying up mules again, better to carry patrols and supplies on the tank-unfriendly terrain of the Hindu Kush. Ray would love to get a bite of that government contract.
MoJo has a pretty small circulation in eastern Mississippi (although I've heard a rumor you can buy a copy at a bookstore in Tupelo), so when they ask I explain my magazine does a lot of investigative reporting. Ray looks at me.
"So you're nooosy."
We do our best.
"You need to put in here that we are very much against PETA," breaks in Rusty.
"We're not against treating animals humanely," clarifies Ray. "But they think chickens are humans."
As equine people their gripe is pretty simple: PETA closed the slaughterhouses, thereby making otherwise valuable old horses (or mules) meaningless, since they no longer have any re-sale value. You can keep on feeding horses that can't do the job, but that's expensive, so instead many owners simply let their horses loose, opening a host of new (and costly) problems.
I have to take off—the political rallies are starting—but not before some sage advice (don't speed on the Natchez Trace Parkway), and a warning:
"Don't stay down South too long," says Jim. "You'll be one of us evil Republicans."