Fight disinformation:
Sign up
for the free
Mother Jones Daily
newsletter and follow the news that matters.
So there are these things that are called video games, see, and one of the most popular types of video games is the first-person shooter, in which you shoot people. Among other things.
There's this other thing called war, see, and America's waging one in Afghanistan in which American soldiers shoot Taliban insurgents. Among other things. And the Taliban shoot back.
You can see where this is going. Or, at least, the gaming company Electronic Arts (EA) can see it: They're in the middle of a roll-out campaign for Medal of Honor, an Afghanistan-based first-person shooter (FPS) game in which you can assume the role of "Tier 1 Operator, an elite warrior and relatively unknown instrument of the US Military that operates under the National Command Authority to take on missions no one else can handle."
Or, in multi-player mode, you can assume the role of a Taliban insurgent.
This isn't treason; it's capitalism run amok.
Part of me wonders why that isn't a huge offense to the same crowd that opposes an Islamic center in Lower Manhattan. Sure, it's gotten some play on Fox News, along with the usual mainstream media handwringing. And even a few (foreign) politicians have weighed in against little Johnny getting his cyber-jihad on. But some conservatives love the game's concept. "If millions of Americans are exposed to a platform that accurately defines our enemy as the dregs of the modern world (while allowing a small percentage of sick individuals to actually enjoy the option to become them), conservatives should move on," writes right-leaning pop-culture blogger Douglas Ernst. (He adds: "Any video game company that allows me to put a few 5.56mm rounds into facsimiles of Taliban cavemen is ahead of the power curve in my book.")
For its part, EA claims to be interested in occupying a view from nowhere, ideologically. "We do stir up some feelings, although it's not about the war, it's about the soldiers," game producer Patrick Liu told a gaming magazine. "We can't get away from what the setting is and who the factions are but, in the end, it's a game, so we're not pushing or provoking too hard."
No. They're pushing just hard enough to make ungodly sums of money. This isn't treason; it's capitalism run amok. Video game producers court controversy in their designs; every group with a political-moral axe to grind pumps out its press-release condemnations; the media outlets dutifully report the controversy and see a bump in traffic; the video games see a bump in sales; the anti-game groups see a bump in donations.
Then, a sequel!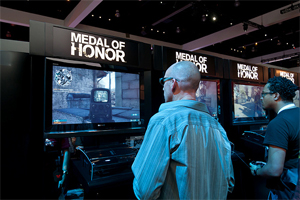 EA routinely nets $4 billion annually in revenues. A large share of that comes from the Medal of Honor franchise: The series' website lists 14 previous games, most of which were World War II-based scenarios that enabled players to be Nazis, trying to improve on the 1,000-year reich's real-life batting record. (The series is the brainchild of filmmaker and war-porn obsessive Steven Spielberg.) And what does the new title represent to EA? Just "another step towards our goal of regaining leadership in the FPS segment," CEO John Riccitiello told shareholders on an earnings conference call in early August. EA has already lined up pop-rockers Linkin Park to provide a No. 1 single for Medal of Honor's soundtrack, and the company's also cut a product-placement deal with Jeep.
Translation: Medal of Honor is war profiteering of the first order, up there with the likes of KBR and Erik Prince's House o' Premium Trigger-Pullers.
Not that we should be surprised at EA's chutzpah. The company shows its loyalty to fans of the "shooter genre" with a rewards program known as the "Gun Club," where perks include early access to virtual weapons like the M24 sniper rifle. "Using their existing EA profile as their Gun Club membership profile, gamers will access content that just might give them an edge in battle," the firm writes in a characteristically breathless press release.
EA also has a peculiar notion of a diversified product inventory. Its lineup of other games includes Shank, "a bloody story of revenge…through a violent, pulp-fiction lens," and my favorite, DeathSpank: Thongs of Virtue, wherein you "explore the North Pole and the high seas to locate six mystical thongs to bring peace and harmony to the universe." A co-creator of the Thongs franchise says, "Bigger, longer, harder—these were the words that drove us while we created the follow up to our introduction to the DeathSpank universe."
Indeed. What does the DeathSpank/Shank/Medal of Honor universe tell us about the folks at Electronic Arts? Just that they're good capitalists. But what does that universe, and its profitability, tell us about ourselves? That we're virtually screwed.