Fight disinformation:
Sign up
for the free
Mother Jones Daily
newsletter and follow the news that matters.
This post courtesy BBC Earth. For more wildlife news, find BBC Earth on Facebook and Posterous.
A bird that lives as long in legends as it does life: The albatross remains one of most majestic of all of the Antarctic birds. This rather stunning bird can be traced as far back as the time of the first modern mammals, over 50 million years. And with an average life span of 50 years that's a lot of birds.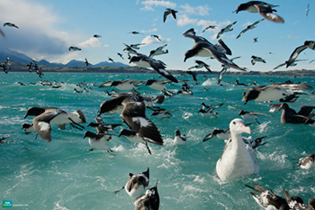 Though as a species they aren't so lucky, endangered the world over mostly as a result of human practices. These birds have come to be greatly respected, and have even become symbols of luck. Whether it is harboring the sacred soul of a dead sailor or filling a ship's sails with wind to aid its progress; you do not have to look far to realize why it is so special.
As one of the largest flying birds, the albatross has one of the largest wingspans of any bird still alive today at an incredible 11 feet.
The number of albatross species is hotly debated, ranging between 13 and 24 species groups, the classification process involving their size, legs and arrangement of the nasal tubes all come into play when defining what really constitutes an albatross. One thing is for certain; their life in the air is quite unique.
Some birds struggle to overcome high winds during rough weather, but the albatross thrives on it. With an impressive wingspan of 11ft and skills such as 'dynamic' and 'slope' soaring, these birds are able to retain a heart rate close to resting when taking on the rugged seascapes, in fact they are so well suited to this not only do they sleep while flying they only come to land to breed.
This video shows you just how the adult albatross use their flying skills for a very valuable purpose. Gathering enough food for their newborns, no matter how long or far it takes them.
It may only take the young albatross within three to ten months to be brave enough to take on life in the air, but once it is there it may leave land for up to ten years before returning themselves to begin their mature lives.