This week, I'm reporting from outside Savannah, Georgia, on my first-ever hunting trip. We're after invasive feral pigs, which have proliferated over the last decade in much of the southeastern US, competing with native species for food and wreaking havoc on land with their rooting. I'm hanging out with Jackson Landers, who aims to whet American appetites for invasive species like hogs, lionfish, geese, deer, and even spiny iguanas by working with wholesalers, chefs, and restaurateurs to promote these aliens as menu items. Read "Feral Pig Diaries Day 1: Moonshine and Teen Swine" here, and my post from Day 3, "OK, but How Does Wild Hog Taste?" here. My introductory post (wherein MoJo takes a field trip to the shooting range) is here.
It was still dark when we got to Baker's property yesterday morning, but we wasted no time, since many mammals are particularly active around dawn. Jackson and I hiked a muddy road to the bottomland around a tidal creek. Along the way, we kneeled to inspect pig scat and hoof prints:
In this print, the grass the pig had trod on hadn't sprung back up, so Jackson guessed it was less than a half-hour old. We climbed into the hunting stand and loaded the gun just as it was just getting light and sat in silence, listening to the wind shaking the loblolly pines. We scanned the ground. We cocked our ears. We shivered. After less than an hour, we were both freezing and itching to go do some stalking by foot, and besides, we could hear this kind of distant yelping noise. We decided to go follow it. Jackson thought it sounded canine—a coyote or (boring, boring, boring) someone's dog, but I convinced myself that I was hearing the squealing of piglets. After the jump: Watch a video where I make a fool of myself.
As you can see in this 20-second clip, I got way excited about the noise. Watch till the end to see Jackson laughing at me. "Might as well listen for a rhinoceros, too, Kiera." Okay, okay. We never did find the animal that was making that noise. Once back in the stand, we heard a whistle that I assumed came from a hawk, but Jackson thought it had a distinctly mammalian timbre to it. Whatever it was, it never emerged. We met Baker and Bob back at the barn.
Bob had seen some of the same little piglets from the day before, but he didn't shoot. We adjourned to the Waffle House for lunch. After our disappointing morning, we decided to resort to drastic measures. "I wonder if we could bait them with something," mused Jackson as we were driving out of the property. "You know what works for bears, don't you?"
"Stale donuts," said Bob.
"Right. So let's go to the grocery store and see if we can find some weird stuff." Weird stuff? Really? It just didn't seem right to goad the poor hogs with donuts. I mean, if someone had tried to shoot me every time I'd caved to a donut in my life, things would not have ended well for me. But Jackson reminded me that we weren't hunting for sport; we were trying to actually get rid of the pigs. And if a few donuts had to get harmed in the process, well, so be it.
Inside the Food Lion in Pooler, Georgia, we found a table of 3-for-49 cents step-down-from-Entenmann's apple danishes. We put 12 in our basket. Bob grabbed a few apples and some molasses, and we headed back to Baker's land.
Once there, Jackson and I drove down deep into the middle of the property. Following a muddy road down to the hunting blind, we took the pig wallows and rooted ground (left) that we saw along the way as excellent signs. While scattering the pastries (right) and apples, and dousing the ground with molasses, we came upon a disintegrating piglet carcass, probably some lucky coyote's dinner a few weeks back. We climbed up to the stand and loaded the gun, just as the afternoon light was beginning to deepen.
A grand, old live oak spread out before us. I rested my rifle on the railing and practiced aiming at the pastries below. Phoebes and bluejays called. A tiny woodpecker made a racket. A frog chirped from a nearby puddle. After about an hour, the light over the distant field turned rosy. I imagined what I would do if a big boar emerged from the forest in the twilight: Set up the shot, preferably when the pig was facing broadside to me. Take a deep breath. Find the pig in the scope. Turn the safety off. Fire. The light grew dimmer, and the woods came alive with more bird sounds. Jackson took the gun from me and looked through the scope at a dark blob on the edge of the brush. It turned out to be a pig-shaped bush. Two hours in, the temperature had dropped, and Jackson and I were both shivering. Every rustle sounded like a snort; every bird call was a squeal.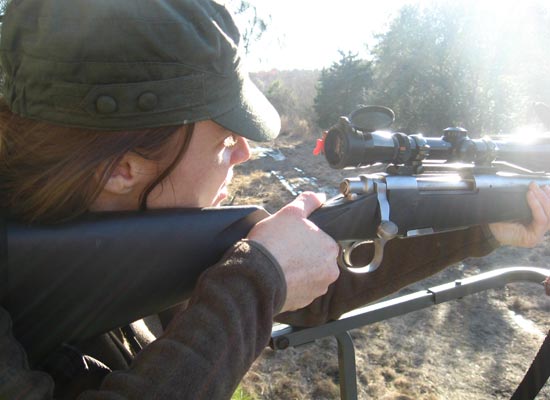 I was ready as I'd ever be for my pig. The sky turned a dark orange, then the first stars appeared, and we shivered some more. Reluctantly, we climbed down from the stand and drove back to the barn. Bob had seen a few deer and a raccoon from his blind, but no pigs. Baker had seen six pigs, fired, and missed. Then Baker told us he had to change his flight back to New York; there would be no hunting tomorrow. I had failed at getting my hog. Even worse news: It was too cold for armadillos, so the evening hunt was off.
Over a distinctly unwild dinner at Ruby Tuesday's, I was pretty dejected, but Jackson and Bob just shrugged. Sitting around in the woods freezing and not shooting anything was part of the whole hunting experience, they reminded me.
Plus, we had learned something interesting about Baker's property. Earlier in the afternoon, we had seen hog traps, so Jackson asked Baker whether they worked.
"They work, but once we get a few pigs we just release them again," said Baker.
"What the hell is that for?" said Jackson.
"Just to keep people around here entertained, I guess! I mean, I like the hogs. I don't want to get rid of them, just want to manage them."
Right. This was news to us. I half expected Jackson to call off the hunt after this revelation, but he just shrugged. "It's his property, he can do what he wants. I'm down here learning to hunt hogs."
Jackson has seen this kind of thing before. In Florida, the spiny iguanas are pests, but they're also kind of pretty, so some people kind of like having a few of them around and object when people try to get rid of them. When the USDA was culling Canada Geese in Brooklyn's Prospect Park, locals got up in arms. No one likes goose poop (or miracles on the Hudson), but geese are cool to look at. This ambivalence sort of reminded me of other wildlife conflicts I've seen: Predators like wolves fascinate us, but we don't like to deal with the messy part: their appetite for livestock.
Anyway, on Thursday I'm headed to Ossabaw Island, a 26,000-acre nature preserve off the coast of Georgia. According to the guy I talked to from the Georgia DNR, it's full of pigs, who eat the eggs of the nesting sea turtles. It's usually closed to the public, but the Georgia DNR has nicely offered to take me there by boat to show me the agency's efforts at pig eradication.
Bob has also very generously offered to share some of the meat from the pig he shot with me, so I'll be cooking that up in the next few days.
And who knows: Tonight it might be warm enough for armadillos.
Read "Feral Pig Diaries Day 3: OK, but How Does Wild Hog Taste?" here.