Fight disinformation:
Sign up
for the free
Mother Jones Daily
newsletter and follow the news that matters.
"My name is Anna Luke. I don't need to say anything; you know me. I was promised by you not once, not twice, but three times that you will handle this. I'm asking you to stay good to your word."
Luke was one of several dozen Gulf Coast residents who showed up at a town-hall meeting in Mathews, Louisiana, earlier this week to give a piece of their minds to Kenneth Feinberg, the Obama administration's oil-spill-compensation czar. Feinberg, who's previously been the White House's executive-pay czar and overseen the September 11 Victim Compensation Fund, is in charge of a $20 billion fund set aside by BP to help fishermen, oil workers, and others directly affected by last year's disastrous oil spill. Eleven months after the Deepwater Horizon sank, many like Luke say they're still waiting for their checks.
Scenes from Monday's meeting:
The abandoned Wal-Mart in Mathews has been reincarnated as the Lafourche Parish government building. For the meeting, a corner of it has been set up with a podium facing the table where Feinberg and a panel of officials sit. The rows of chairs for members of the public are full, so lots of people stand around the edges.
Yet for a moment, half the people who have chairs are standing, too, because Feinberg has just stopped a woman named Cathy Blanchard who was speaking. When she said, "We haven't been paid," he cut in, "In your case." And then she turned exasperatedly to the crowd behind her and said, "Stand up if you haven't been paid."
Blanchard's husband was one of the seven cleanup workers who were hospitalized last May. She says that her husband hasn't been reimbursed for his hospital bills and they've since been sent to collections. "I'd like you to be a man of your word and dish out this money," she says.
SOME PEOPLE WHO are getting paid don't deserve it, a lot of people at the meeting say. And people who do deserve it are slipping through the cracks. Feinberg doesn't believe that undeserving recipients are getting money. "I don't buy it. If you think this money is going to strippers"—he raises his voice, and keeps it raised—"you are incorrect! If you are hearing that [the Gulf Coast Claims Facility] is not paying fishermen, oystermen, crabbers, or shrimpers, that isn't true. I am telling you it just isn't true! This idea that almost $4 billion is going to waiters, and strippers, and barbers, is ridiculous!" Earlier, he said the GCCF, which he administers, has paid out 200,000 claims ("To who?" the audience yelled) totaling $3.7 billion, and had said then, too, "If you think this $3.7 billion is going to STRIPPERS and waiters…"
"I'M A CRABBER. I'm not a fisherman, I'm not an oysterman, I do crabs. I turned in every piece of paperwork I have but my dog license and my marriage certificate [for claims processing]. In 2010 I was half a million off on my business from 2009, and 2009 was even a bad year. I bought 7,000 pounds of crab today, it's the first time since last June we've seen any crab. The guys in Baltimore tell me they don't want it. They took Gulf seafood off their menu in Baltimore, in Chicago. They're live. They got about 24 to 30 hours they're good. After that they're junk. You wanna buy 'em from me? I'm half a million off, and I got a claim check for $100,000."
DEAN BLANCHARD IS locally famous for being charming. Also for owning the largest shrimp business around. Shrimping king. LSU fan, chain-smoker. "Welcome to Wal-Mart!" he says to Feinberg, and everyone starts laughing, and laughs harder when he adds, "I'm practicing for my new job." This past weekend, Blanchard was at the International Boston Seafood Show. He went to dinner with the buyers from Winn Dixie, and unfortunately they showed up with a USA Today showing oil on Grand Isle again. That's oil from a new spill, but BP's oil is still washing up there, too.
"BP chose to sink the oil and spray dispersants all over and kill the marine life and the marine life is our life," Blanchard says. "Every day someone comes to me and says they see oil: sport fishers, shrimp fishers. My office is on the water and every day I see it." Several times he acknowledges that Feinberg has a hard job. "I wouldn't want your job," he says. Yet: "You got a raise. BP must be happy with you. You must be happy with them. Make us happy now."
FEINBERG: I DO not represent BP."
Crowd: "Boooo!" "Yeah right!"
FEINBERG, INTERRUPTING A person complaining about not being compensated for paralyzing headaches: "You gotta demonstrate that the physical injury is due to the spill. We are paying physical injury claims."
Crowd: "LIE! LIE!" "You are such a lying piece of shit!"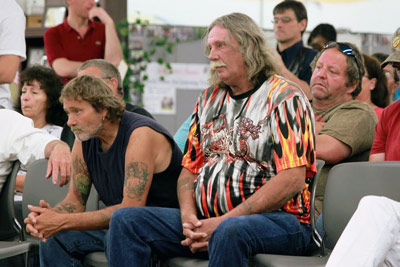 YET ANOTHER MAN says he has incapacitating headaches, though he explains (as do the other men) that he is not the type of man who just gets headaches. But these headaches, you can't even understand how painful they are. "I'm not trying to get rich," he says. "I'm just trying to come out where I was before. I've received seven percent what I'm owed. I have all my documentation, and I put it together in this packet for you. This is the fourth time I'm giving these documents to you. Tony Hayward said he wanted his life back? Everybody in this building wants his life back."
ONLY ONE OF the community members who stands in line to speak says he does not have a claim to settle with BP. But his son, who has a speech impediment, does. So the father waits to ask why his son, a fisherman who makes $17,000 to $18,000 a year, got denied when he only asked for $8,000 in compensation. His claim had all the right records, a letter from a politician…
Feinberg, who's been reclining in his chair, leans toward the microphone. "If he's been denied, there's a reason. You need to have shrimp tickets—"
"I have shrimp tickets!" the man yells, his voice wavering. "I drove to Baton Rouge to get it!"
Feinberg says, "I'll take a look."
THERE ARE A couple forms of encouragement that Feinberg offers to those who come before him. Like: "I will do my best." Or: "We'll take a second look."
The woman whose husband was furloughed by the oil company he works for because of the spill—"Not because of the moratorium?" Feinberg asks; no, she says, because of the spill, dammit, because he worked on a rig that was right by the exploding Deepwater Horizon and had to be shut down regardless of the ensuing deepwater drilling ban—she will have her claim looked at again.
We'll take a look at your claim. Judging by the applause she receives from the audience, one woman's response to this line seems to speak for many in attendance. She says her husband's diagnosis says clearly that he's sick "due to chemical exposure." But there's been no compensation; she had no choice but to finally pay his ambulance bill, putting it on her credit card just today. When Feinberg responds that he'll look at her claim, her shoulders sink. "I work in the claims business," she says. "If I 'look' at a claim all…day…long, it won't get paid."