Fight disinformation:
Sign up
for the free
Mother Jones Daily
newsletter and follow the news that matters.
Like all the houses on this block of southern Los Angeles, education reformer Oralia Velasquez's bungalow has bars on the windows and doors. I ring her doorbell one night as her neighbors—men in blue uniform shirts, kids carrying soccer balls—enter a few of the pastel houses that line the street, greeted by barking dogs and the wafting smell of dinner. We sit near family photos and statues of the Virgin de Guadalupe and discuss the complex national education debate playing out now at her daughter's elementary school.
Until the nation's first "parent trigger" law passed in California, news coverage of Compton was often reduced to gang violence and drive-by shootings. But the flatlands are also dotted with graceful, dilapidated homes: reminders of a golden era when Compton held middle-class union jobs in the auto, steel, and rubber industries. Like Detroit, the death of industry left blight in its wake, and today there are more liquor, party-supply, and 99-cent stores here than parks, playgrounds, or libraries. Fewer than 1 in 10 residents have college degrees. School dropout rates are high. School test scores are among the lowest in California.
So when someone from a nonprofit called Parent Revolution knocked on Velasquez's door last fall to talk about "the possibility of change" and how California's newly-passed "Parent Empowerment" law could help Amie, her fifth-grade daughter, learn to read better at McKinley Elementary School, she was sold. She's been hearing about "change" from the school district since she was a teenager; why not try a charter school run by the Celerity Group, the operator Parent Revolution suggested, instead? "Whenever I tried talking to previous [McKinley] teachers about Amie's struggles, they'd say, 'She is fine. She is well behaved.' But I'm not worried about her behavior. I want her to get high grades and go to college," she tells me. Aware that only one in five charters succeed, she visited one in person. "The atmosphere at Celerity is totally different. Everyone said good morning to me. There are more staff supervising the kids, and children are really concentrating." Velasquez is now among 15 parent leaders in a group called McKinley Parents for Change, which helped Parent Revolution's paid canvassers gather parent signatures to turn McKinley into a Celerity school. The group claims they gathered more than 60 percent of parents' signatures and delivered them to the Compton Unified School District in December, but the transition is now in legal limbo. Despite court orders, the district has been stalling the verification process for months, and the controversial methods used to gather parent signatures have fractured the school community.
Like Compton itself, McKinley is a test case for the "parent trigger" law, which essentially boils down to 480 hastily approved words that give parents the option of turning low-performing public schools like McKinley into charter schools of various stripes. The bill, backed by Parent Revolution and other charter school believers, squeaked through the state legislature last year and was opposed fiercely by teacher unions. (California Teachers Association's Frank Wells argues that it was an ill-considered, last-minute attempt to qualify California for federal Race to the Top funding, which the Golden State didn't win.) Similar legislation is now popping up in at least five other states, and it's no exaggeration to say that what happens here could someday be mirrored across the country. So how exactly did Amie's school get tapped for the role of guinea pig?
Parent Revolution Executive Director Ben Austin tells me that when the paid canvassers of Parent Revolution and 15 Compton parent volunteers went door-to-door telling parents about the new law and asking them which schools needed the most improvements, McKinley came up most often. Opponents of Parent Revolution refer to the Los Angeles based nonprofit as an "astroturf" organization fronting for outsiders who want to privatize public education, and McKinley as a school chosen because it's already improving. Robert Skeels, who writes for the Daily Censored online news site, demonizes the nonprofit as "a poverty pimp and privatization pusher collecting a check from plutocrat foundations."
Austin rejects these accusations. "This law is about giving parents collective bargaining rights, that sense of entitlement that middle class parents take for granted," he tells me. During his stints at the White House, the California State Board of Education, and as deputy mayor of Los Angeles, he says he realized that parents and students didn't have real political power in negotiations around schools. Besides, he adds, the parent trigger law is unpopular among charter operators. If a charter school is created in a public school site, it has to take all of its students; it can't cherry-pick the high-performers as some charters do in California.
Parent Revolution operates on a $1 million budget, funded primarily by the Bill & Melinda Gates Foundation, the Wasserman Foundation, the Eli and Edyth Broad Foundation, the Hewlett Foundation, and the Walton Family Foundation. Education historian Diane Ravitch argues that the Gates, Walton Family, and the Broad Foundation combined invest far more funding in education reform than any foundations before them, with unchecked power to expand charters, vouchers, and other business-inspired reforms.
Austin notes that Parent Revolution went to funders asking for support in giving parents collective bargaining rights, not charters. Charters are difficult to scale up—and there aren't that many good ones, he says. As a state Board of Education member, Austin even led an effort to close the worst performing charter schools in California. "Going forward, only a very small sliver of transformations will involve charters. Eighty percent of parents will probably organize to bargain collectively around reforms within their own schools."
The organization is working on school reform campaigns with parents in dozens of schools, at their request, says Parent Revolution's communications director, Linda Serrato. It is not yet clear how many of these parents may end up using the "parent trigger" law to implement change.*
As I approach McKinley Elementary School, Pastor Lee Finnie introduces me to his oldest son Josiah, a sweet second-grader who was recently diagnosed with a high-functioning version of autism. Finnie has become a de facto leader of what he believes is a sizable opposition to the "parent trigger" law in Compton. "We just don't like to have outsiders come in here and give us only one charter school as an option," Finnie tells me in McKinley's PTA room. Mostly he's upset with the way the process was handled. Why didn't Parent Revolution have a public meeting where they clearly explained the rights of the parents? Or allow public questions? "Are lunches free at Celerity? Do they have a school that serves the same demographics and succeeds? How do they work with special needs students?" Finnie wonders aloud. These are the kinds of things he thinks maybe his neighbors didn't ask the canvassers before picking up a pen to sign the petition.
09-10 School Year
McKinley
Celerity
-Dyad
Celerity
-Nascent
API Test Scores
684
836
782
State Rank (10 highest)
1
5
4
African-American
34%
11%
63%
Latino
56%
89%
37%
Pacific Islander
0.70%
–
–
Filipino
0.20%
–
–
White
0.20%
–
0.20%
English Learners
45%
62%
16.30%
Special Education
10%
5.20%
3.70%
Low-income
80%
100%
100%
*Sources: Calif. Dept. of Education, SARC
He didn't think to ask these questions either when he transferred Josiah to the Barack Obama Charter School near Compton, which turned out not to be set up to work with special needs students. Josiah was there for five months before he got "kicked out for behavioral issues." And test scores at Obama charter were lower than McKinley's in 2010.
Is McKinley a great school? Not really, Finnie says. "To tell you the truth, some teachers have been nicer since the petition. But it's not like we are not coming out of the ditch by ourselves," he explains. Things have been improving at McKinley for the past two years, he says. He's not opposed to charters or parent empowerment, but he wants an open discussion in the community, led by parents, not Parent Revolution. Finnie insists that many parents who signed the petition didn't fully understand what they were signing, or realize that teachers and the principal would be fired when Celerity comes in. He says some parents told him they thought they were agreeing to "beautify" the school, or signed the petition just to get the canvassers to go away.
Finnie, like most opponents of Parent Revolution I talked to, also doubts that Parent Revolution organizers gathered 51 percent of signatures from actual parents. But when I asked him and a few McKinley teachers to put me in touch with parents who felt duped, they weren't able to do so. Finnie thinks the fight has become so divisive that parents are now afraid of talking to outsiders about it at all. "They don't want to fan any more flames," he says.
Compton Unified School District didn't respond to numerous requests to connect me with McKinley teachers. After school hours, I found a few teachers willing to talk on record, and they share Finnie's sentiments. Regina Powell, who teaches first grade at McKinley, says she is not against charters. "My son, who is in the 12th grade, goes to a public charter. It's the sneaky Parent Revolution process that I don't like." David Gilmer, who teaches third grade, agrees. "I don't like this top-down, authoritarian process. This is America, and we believe in choice and informed decisions."
Gilmer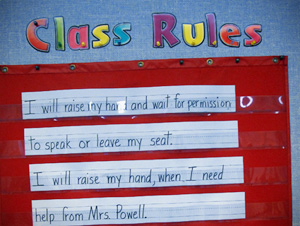 notes that McKinley has already been making progress. Thanks to a state improvement program, teachers now have group meetings every week where they come together to look at grades, test scores, and adjust strategy collectively.
"If you look at grades—not test scores—what you'll see is that students who are not proficient are moving along," says McKinley Principal Fleming Robinson, while Ron Suazo, the district's communications official, sits next to him. "While they haven't reached proficiency yet, they are improving," he explains.
What about the health of McKinley's school culture and relationships between teachers and parents? I ask Robinson. About average, he reflects. "Sometimes, the first time parents hear from a teacher is when the child is struggling," he tells me. "That's not the best way to start a dialogue."
Powell, Gilmer, and teachers who didn't want to talk on record believe that the current "parent-trigger" process is not open and transparent, and it harms the community. Most teachers know which parents signed the petition, Powell explains, and now some teachers are less engaged with their kids in the classroom. Gilmer often talks to parents on the streets about their kids if he sees them. "That's now over with the parents who signed the petitionm" he says. "They don't say hello, and they avoid me."
Gilmer is also worried about the long-term impact on racial tensions. Although Compton is still often thought of as a primarily black community, Latinos are now the largest ethnic group in the city and most of Compton schools. With these changes have come tensions that often emerge as groups redefine relationships and power. African Americans continue to dominate local politics and the Compton school board. There has never been a Latino on the city council, and there are no Latinos on the current school board. LA Weekly's Patrick McDonald reports that out of 15 early McKinley Parent for Change organizers, only one was African American. Linda Serrato with Parent Revolution says that's changed and is now more in line with city demographics.
There have been numerous accusations of harassment and intimidation tactics on both sides. The PTA complained that canvassers petitioned parents aggressively even after parents declined to sign. McKinley Parents for Change also claimed deportation threats from charter opponents and accused McKinley teachers of badmouthing petition supporters in front of their children at school. The California Board of Education has urged attorney general to investigate the accusations. Finnie and the teachers I spoke with all agreed that the best way to avoid community wars is to have an open, public process where all sides can be heard and everyone has a chance to make their case. "When an outside entity comes in like that, it sparks fire. It divided and conquered us," Finnie said.
When we talk about the negative impact of this process on the community, Austin offers, "I don't have any regrets, but it's an ugly situation. This law has never been tried before, and we are going to do this better next time. Moving forward, it's going to be a slower, more organic process."
I called Pastor Finnie a few days ago to ask what he'd like to see happen now, while the future of this law and of McKinley are being debated by the lawyers, judges, and the Compton District officials. "We will be raising our children here together for the next 10 years, and we have to find a way to cooperate and live together," he answers. "I would be very open to sitting down with McKinley Parents for Change, and figure out a way to move forward, and let the healing in the community begin."
Velasquez tells me it doesn't make sense to have a community forum until the Compton Unified follows the court orders and verifies the signatures on the petition. Without that, it's hard to have a meaningful conversation based in facts, she says. Amie is graduating from McKinley this year, but Velasquez will continue her work with McKinley Parents for Change: "Even though Amie won't be at McKinley next year, I'm doing this for my community. I want children in this community to have a better school experience than Amie and I did."
*[Correction: This article originally stated that Parent Revolution is working on 15 parent-trigger campaigns. The organization clarifies that they are working on school reform campaigns with parents in dozens of schools, but it is not yet clear how many of these parents may end up using the "parent trigger" law to implement change.]