I love a good Peep. Besides the Hunky Jesus Contest, the Peeps invasion of every drugstore and bodega in San Francisco is one of my favorite things about Easter. But why limit your Peeps intake to Easter-time? As these crafty folks on Etsy show, it's easy to get your Peeps fix year-round. My top 5 favorite Peeps-related crafts are below. And below the jump, the worst Peeps crafts found on Etsy. Prepare yourself.
1) Love Peeps AND Star Wars? Look no further! I can only speculate as to what a peeping Darth Vader would sound like. But really, can anything beat Boba Fett in knitted Peep form? I think we both know the answer to that one.
2) This woolly chick is not only very cute, she's well-proportioned for a Peep. I'd recommend it for a child if it wasn't a choking hazard.
3) While there are a number of cute, felted Peeps dolls on Etsy, these are the only ones I've seen that come in "screaming" and "regular."
4) Mama and baby Peeps. These are just too sweet. I love how the mothers seem so pleased to have three babies strapped to them with a piece of felt. We should all be so lucky.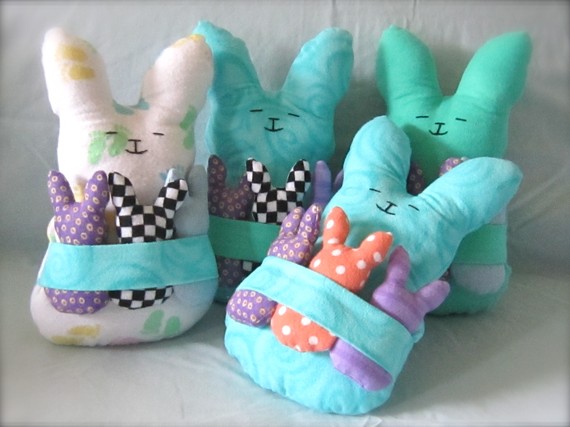 5) Peeps scarf. You actually can't buy this scarf, just the pattern. Still, it's crafty, fun, and Peeptastic, even if they do kind of look like roadkill on the pavement.
Okay, those are the ones I liked. Below, my pick of the worst. And believe me, there was a lot to choose from.
1) I like the idea of a Peeps wreath. But for $20? And some of the Peeps are busted. This is surely the fastest shortcut to an epic ant infestation.
2) This is the equivalent of a scary clown painting, but with Peeps. I can feel them following me with their beady little asymmetrical eyes.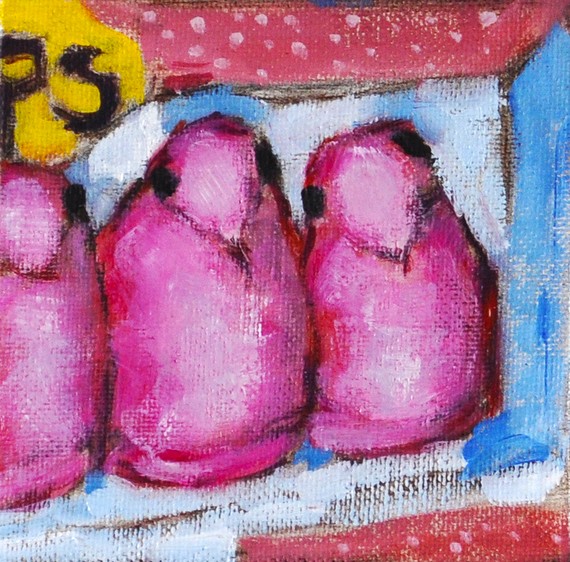 3) Peeps candle. Peeps are made out of marshmallow, right? So to show a group of them bathing in marshmallow stew is bit like me sitting in a hot tub full of blood. As the candle burns, I can only imagine the wax Peeps slowly melt into a vat of their own innards. Keep the kids away from this one.
4) Love on Peepback Mountain. This artist has combined a great romance movie, Brokeback Mountain, with Peeps. It is quite obviously shot in someone's backyard, but I kind of love that they've stolen some little girl's toys as props. I wonder how much of the $20 sale she'll get?
5) Unzip this artist's heart, and inside you will find a dirty, battered, Peep.