This is going to be a little bit different than my last assignment, which looked like this: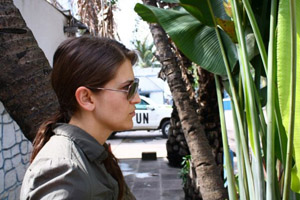 My new one looks like this:
That's my room for the next month. I'm in Gahanna, Ohio, which, the welcome sign at the edge of this Columbus suburb notes, was one of the Top 100 Places to Live according to Money magazine in 2007. Ohio's new Republican governor, John Kasich (currently a contender for the most unpopular governor in the country) is gearing up to make some big changes around here. This month state legislators will come to an agreement on Kaisch's great big budget cuts, mostly to local governments. He is also proposing to dismantle unions' bargaining abilities, the cause of much protesting. He also wants to divert profits from state alcohol sales to a "jobs creating" semi-venture-capital fund he heads.
For the next four weeks, I'll be covering these developments, while spending some quality time with people who work for the state, college students, university administrators who are about to see their budgets slashed, and local politicians (if they'll talk to me).
But first, meet the folks who have agreed to take me on as a boarder/annoying journalistic presence. Erin Rodriguez was Erin Goodrich when I knew her at my undergrad alma mater Ohio State. She turns 31 next week, and teaches at a public middle school in a rural town outside Columbus. Her husband Anthony is a public information specialist at the Ohio Consumers' Counsel (OCC), an agency that advocates for customers in complaints, regulatory hearings, and court cases involving utility companies. They recently bought a three-bedroom house. (Katie, the subject of the American Girl stenciling in my bedroom, belonged to the previous owners.)
Running the house is Jocelyn, a supercute (even if you're not really into babies) and delightfully unfussy 10-month-old. These are the house rules I was given when I arrived yesterday:
1. Don't hurt the baby.
2. The baby is the boss.
2a. "Don't worry if you swear around the baby, but don't just be screaming random expletives. And don't swear at the baby."
Rounding out the family are a big gray cat named Princess Vespa, and a black one that the four-year-old Erin adopted it from had christened Barack Obama. Barack Obama will not stop rubbing up against me even though I'm violently allergic to cats.
Last night, Erin and I drove around my new digs, which she describes as "pretty typical suburbia." Gahanna is a solidly middle-class suburb. Lots of green lawns and trees, lots of shopping centers. It's not like some of the more bourgeois suburbs around here, Erin explained, "as evidenced by the lack of a Whole Foods"—which I'd inquired about. (Though I'm originally from Ohio, this and a question about the availability of composting prompted a lot of mocking about how I now live in California.)
We pulled back into the driveway at the same time as Anthony. He'd had a long day; that evening there had been a public meeting about the local electric company's planned rate hike. Things are busy at the office, too. In addition to the usual business, he has to move his desk; the office is being consolidated to one floor from two. Kasich's original budget draft called for a 51 percent cut to the OCC. The state Senate has proposed softening it to fortysomething percent, but a ton of layoffs are still on the table. "We're in that mode," Anthony says of himself and his coworkers, "where we're like, What the hell are we going to do?"
With his job up in the air, Anthony's been doing as much freelance consulting as possible. When we all got home at 8:30, he got back on his laptop to get some work done. As much as he could, anyway. Erin and I failed to sufficiently preoccupy the baby, who kept pointing at and asking for her dad. He took a break, to pick her up, singing us a soothing little song while he paced the family room carpet with Jocelyn in his arms.