Fight disinformation:
Sign up
for the free
Mother Jones Daily
newsletter and follow the news that matters.
As my colleague Tim Murphy wrote this morning, Rep. Michele Bachmann (R-Minn.) finally got sick of the criticism hurled her way by fellow GOP presidential contender Tim Pawlenty and fired back with an attack of her own. In highlighting the former Minnesota governor's questionable fiscal record, Tim notes, Bachmann is on the mark. But on the biggest issue on the minds of Americans—jobs and the economy—Bachmann is dead wrong again.
In a Sunday email to supporters, Bachmann says, "Governor Pawlenty said in 2006, 'The era of small government is over…the government has to be more proactive and more aggressive.' That's the same philosophy that, under President Obama, has brought us record deficits, massive unemployment, and an unconstitutional health care plan. [emphasis mine]
Let's examine this. First, President Obama's philosophy, and by extension his policies, have not created record deficits here in the United States. As this nifty New York Times graph points out, it was President George W. Bush's policies—the Bush tax cuts, two unfunded wars, a prescription drug bill, and more—that created a massive deficit. Obama inherited a staggering deficit; he didn't create it. Now, there's a whole different debate to be had about the long-term effect of Obama's policies on the deficit, but that's not what Bachmann's saying. She argues that the mess we're in now is Obama's fault. Bzzt. False.
The "massive unemployment" we have today also isn't Obama's fault. Look at the following graph, which tracks the national unemployment rate, seasonally adjusted, from when Bush took office to the present.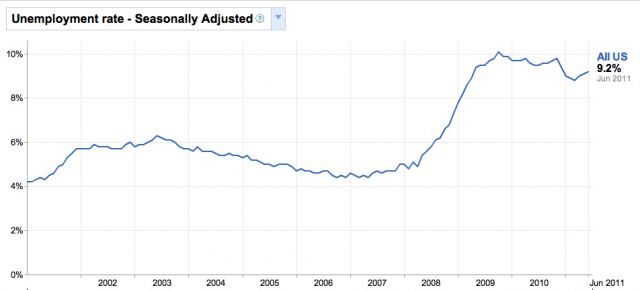 As you can see, the jobless rate climbed from a low of 4.4 percent in May 2007 to a high of 10.1 percent in October 2009. The bulk of that increase occurred during the latter years of George W. Bush's presidency, when the housing bubble burst and financial markets went into melt down. The reasons for those crises are many, spanning multiple presidencies. But to say, as Bachmann does, that "massive unemployment" is a result of Obama's policies is wrong. (Not that Obama should get off easy; he came into office with an 8.4 percent jobless rate, and it's now at 9.2 percent. Many economists argue that Obama hasn't done enough to stem the nation's jobs crisis, which shows no signs of abating.)
Finally there's Bachmann's claim that Obama's health reform law is unconstitutional. Bachmann would likely back this up by pointing to court decisions this year declaring the law unconstitutional. But there are also judges who have said the opposite, including a federal appeals court judge appointed by a Republican president who clerked under conservative Supreme Court justice Antonin Scalia. That judge, Jeffrey Sutton, ruled late last month that Obama's reform law is in fact constitutional.
In other words, Bachmann's attacks on Obama are miles from factually accurate. Which makes you wonder: Has Michele Bachmann's crack fact-checking operation gone on vacation?