Fight disinformation:
Sign up
for the free
Mother Jones Daily
newsletter and follow the news that matters.
For Utah tea partiers, the last several years have been aces.
On Tuesday, Politico published a story on the rising influence of freshman Senator Mike Lee (R-Utah), calling him a "must-see for GOP candidates hoping to channel the energy of the tea party movement." And for months, the same groups that ousted three-term conservative Republican Sen. Bob Bennett in a state convention last year—paving the way for their favored candidate Lee—have had their crosshairs set on Sen. Orrin Hatch, with the thought of drafting tea party favorite Rep. Jason Chaffetz to take his place. Movement leaders have also talked of ousting Republican Gov. Gary Herbert, along with state legislators who supported a recently passed guest-worker law.
Life is good if you're a tea party Republican from Utah. With all that momentum, there's little reason to doubt the the movement's long-term viability in the Beehive State. Right?
Well, no. A recent poll conducted by Brigham Young University's Center for the Study of Elections and Democracy shows that overall support for the tea party in Utah has dropped from 53 percent during last year's elections to 46 percent in April. A closer look at the numbers, though, shows that while overall and independent support for the movement has eroded, diehard Republicans are even more committed than before: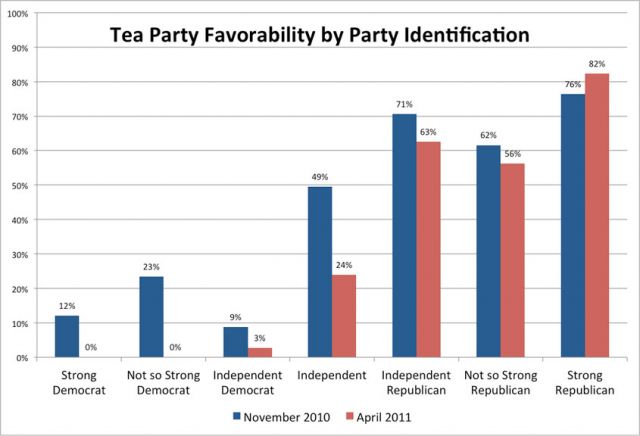 Among independent voters, support for the tea party has plummeted by nearly fifty percent, potentially helping moderate Democrats. But for "strong Republicans," support for the tea party climbed from 76 to 82 percent. The poll issues a clear warning for candidates like Chaffetz, Hatch—and, down the road, even Lee—who hope a hard push to the right will secure their political futures.
The takeaway: as the tea party continues to consolidate its support among Republicans, independents (i.e., the voters who end up deciding elections) are drifting away in increasing numbers. Whether this trend continues taking hold in Utah—the heart of the conservative heartland—could be a bellwether for its national viability.