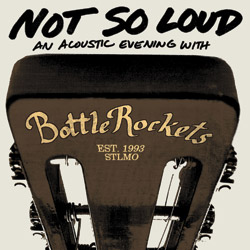 TRACK 7
"1000 Dollar Car"
From Bottle Rockets' Not So Loud (Bloodshot)
Liner notes: "A thousand-dollar car, it ain't worth shit/You might as well take your thousand dollars and set fire to it," groans Brian Henneman, using wheezing harmonica and lazy banjo to underscore his woe.
Behind the music: Henneman was a roadie for alt-country pioneers Uncle Tupelo in the early '90s before forming the Bottle Rockets. Cut at a club in a converted schoolhouse in the band's home base of St. Louis, Not So Loud trades the usual scruffy rock for acoustic settings that emphasize the quartet's witty songwriting.
Check it out if you like: Drive-By Truckers, Todd Snider, Neil Young, and other champions of the underclass.
Click here for more music features from Mother Jones.