Fight disinformation:
Sign up
for the free
Mother Jones Daily
newsletter and follow the news that matters.
College students have, to some extent, always been poor and hungry. But in the past few years, undergrads' plight has become truly dire. It's not hard to see why the Occupy Wall Street movement has struck a chord on campuses.
Just check out these stats: Unemployment among college grads is twice what it was in 2007. According to the Economic Policy Institute, the unemployment rate for 16-24-year-olds is twice the national average; grads under 25 are twice as likely to lack a job than their older peers. The New York Times reports that just half of students who graduated in 2010 had a job in the spring of 2011, and even those who did get jobs were often way overqualified:
An analysis by The New York Times of Labor Department data about college graduates aged 25 to 34 found that the number of these workers employed in food service, restaurants and bars had risen 17 percent in 2009 from 2008, though the sample size was small. There were similar or bigger employment increases at gas stations and fuel dealers, food and alcohol stores, and taxi and limousine services.
Earlier this week, students from an OWS offshoot called Occuppy Student Debt pledged to refuse to pay back their student loans. Some of the members of the group have shared their stories on the group's site. Here's one entitled "Suckit Sallie":
I was one of those kids who always pushed hard and dreamed big. I skipped a grade, was in all the right AP classes, one of 2 or 3 black student on the honor roll, and went out of state for college @ 17 and had no doubts I would make it in life. I used the government and Sallie Mae to make it through grad school within 6 years, and expected to be somewhere way different than where I am now…..

I am 25 now and living back @ home. With a different phone number to avoid all of the harrassing phone calls asking me to pay back $1400 a month I just don't have. After 10 months of searching, even with my masters from a good school, I could only find an overnight stock job @ toys r us. I get talked to crazy all for $8 an hour. I am back in school, but becuase I went into default prior to getting in school, I can't get a deferment yet. But there is no way I can pay my way out of default on $8 an hour.
More stats on the dire financial straits of America's college students:
Sticker Shock
Average tuition (in $ thousands) at private and public colleges has climbed steadily over the last decade:
Deeper in Debt
The amount that students owed quintupled between 2000 and 2011.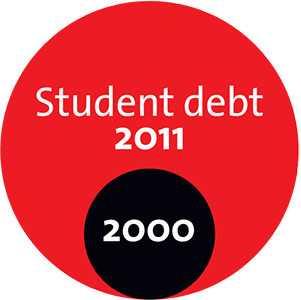 School vs. Shopping
In 2010, for the first time ever, Americans' outstanding student loans ($ in billions) exceeded their total credit card debt: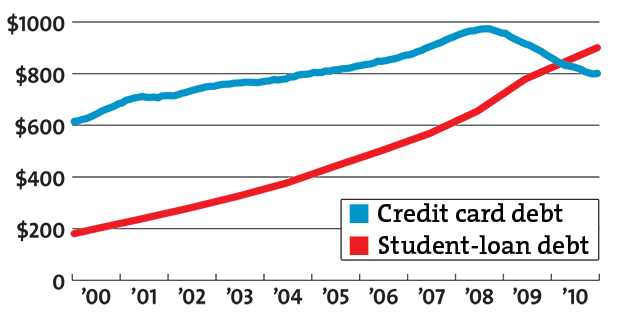 Plus: If you're curious about how students are making ends meet, check out the last-resort methods our readers turned to to pay for their degrees.