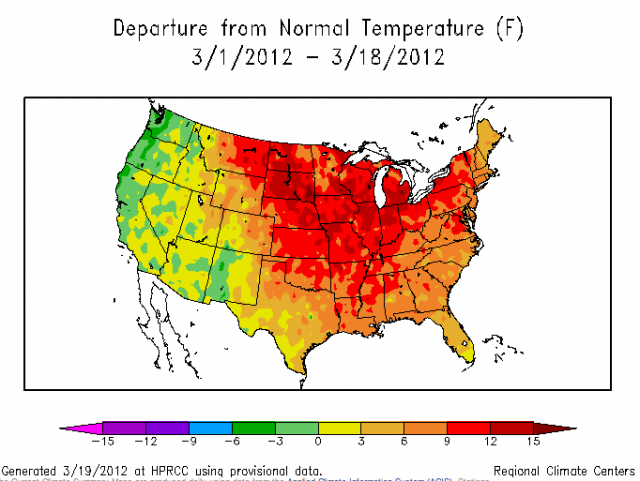 More than 2,200 warm temperature records have been set so far in March. Take a look at the map above to see where temps are crazy departures from normal.
This isn't your average heat wave. Its duration, set against more than a century of record keeping, makes it one for the climate change chronicles. Here's what some meteorologists are saying:
From the National Weather Service in Chicago: Chicago and Rockford have now both broken high temperature records 5 days in a row. There is even the potential they could tie or break record highs for up to an unbelievable 8 days in a row depending on how warm temperatures get Monday through Wednesday. It is extraordinarily rare for climate locations with 100+ year long periods of records to break records day after day after day.

From Jeff Masters' Wunderblog: The ongoing March heat wave in the Midwest is one of the most extreme heat events in US history. With so many records being shattered, it is difficult to cover in detail just how widespread, long-lasting, and extreme the event is.
According to the CapitalClimate blog (HT Climate Central) warm weather records this month are outpacing cold records by a whopping 19-to-1. 
Take Chicago. You can see in the graph above how radical this year's heat wave is compared with the five other top warmest Marches on record. The hashed black line shows the average month-to-date temps in degrees Celsius for March (convert here). The dotted blue line shows the month-to-date average temps for 2012 based on current predicted temperatures.
The upper Midwest topped out at Winner, South Dakota, yesterday, which hit 94°F—the earliest 90° reading ever recorded in the Northern Plains, according to Jeff Masters. He also points out the high temps aren't stopping at the border. Canada is weathering record-breaking heat too:
Winnipeg, Manitoba broke its record high for the past four days in a row, and hit 21°C (70°F) yesterday, its hottest temperature on record so early in the year. With today's forecast by Environment Canada and wunderground both calling for highs near 25°C (77°F), Winnipeg is likely to record its highest March temperature on record.
To put what's going on into a bigger perspective, this NASA/Goddard Institute for Space Studies video shows 131 years of global warming between 1880 and 2011 in 26 seconds. This year looks set to reinforce that accelerating trend.