The Great Falls Tribune reported Wednesday that Richard Cebull, a George W. Bush-appointed federal judge in Montana, sent a racist joke about President Barack Obama from his official email account. Even as far as racist jokes go, the dig is mightily unclever—the punchline contains an implied comparison between black people and dogs.
Josh Glasstetter at Right Wing Watch has obtained an image of the email, which he writes has been going around the Internet around for months. It resembles a cheesy greeting card: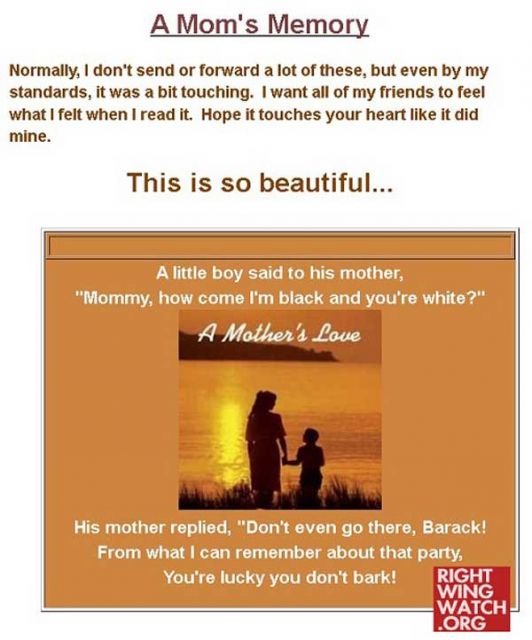 The joke also implies that instead of being married to Barack Obama Sr., Obama's mother Ann Dunham merely got pregnant at a party at which she was drunk, because how else could a white woman end up sleeping with a black man? So it manages to be profoundly racist and sexist at the same time.
Judge Cebull apologized and said he understood the joke was racist. What's interesting was his explanation for sending it around anyway:
"The only reason I can explain it to you is I am not a fan of our president, but this goes beyond not being a fan," Cebull said. "I didn't send it as racist, although that's what it is. I sent it out because it's anti-Obama."
Cebull doesn't seem to understand there's no way to deploy racism exclusively against President Obama. Racist animus cannot be focused on a single person. It is, by definition, a collective judgement on an entire people.
Perhaps Cebull's cognitive dissonance explains the appeal of certain racialist explanations for Obama's behavior—"Kenyan anti-colonialism" and so forth—and why some conservatives don't seem to understand why so many black people react to such language as though they're being personally targeted. They are, even if those doing the targeting don't seem to realize it.