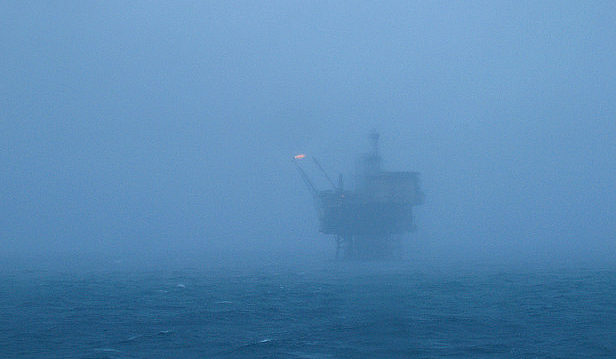 The five-day-and-counting mega-engineering challenge continues at Total's Well-from-Hell in the North Sea. That name was coined by Frederic Hauge of Bellona, a Norwegian group that monitors the oil industry:
"We estimate the total greenhouse gas potential of the reservoir is roughly 0,56 Gigatonnes CO2 equivalent," said… Hauge. "This is based on recoverable resources of 15 billion cubic meters of gas at the West Franklin Field. The pressure in the well is 200-300 bars higher than Macondo [the Deepwater Horizon field]. If no plugging is achieved, this leak is likely to continue for 10-12 years. This is truly the well from hell," he said.
The best-case scenario, Hauge notes, is if the leak is in a small gas pocket, not an enormous reservoir in the Elgin-Franklin gas field. From Bellona:
Should the gas be flowing from the reservoir, Hauge said, staunching the flow could be a long time operation. If, however it is coming from a gas pocket, it could well bleed itself out. 
I described Elgin yesterday as the North Sea's looming Deepwater Horizon—if for no other reason that it also lies at the farthest reaches of our technological abilities to drill and has already clearly exceeded our technological abilities to drill safely. And then there's the matter of our abilities to repair. Or know how to repair. 
The video provides a good explanation of the situation, particularly the explosive aspects of it. 
But the really pressing issue is the fact that the gas in the field is under extreme high pressure and high temperature. These crappy working conditions are some of the only options left to the UK, reports the Wall Street Journal:
These types of fields are thought to contain a significant proportion of the UK's remaining oil and gas, making them important enough to have been targeted with a specific tax break to encourage development. Yet documents show that the French oil-and-gas producer's Elgin and Franklin fields off the coast of Scotland—at the extreme end of the spectrum of high-pressure and high-temperature fields—have faced major technical challenges, from their discovery right up until the incident that triggered the gas leak.
And while Total claims there's no extremely toxic hydrogen sulfide (aka "Agent Orange" in the ocean) leaking from its Well-from-Hell… well, exactly how do they—or we—know that at this point?